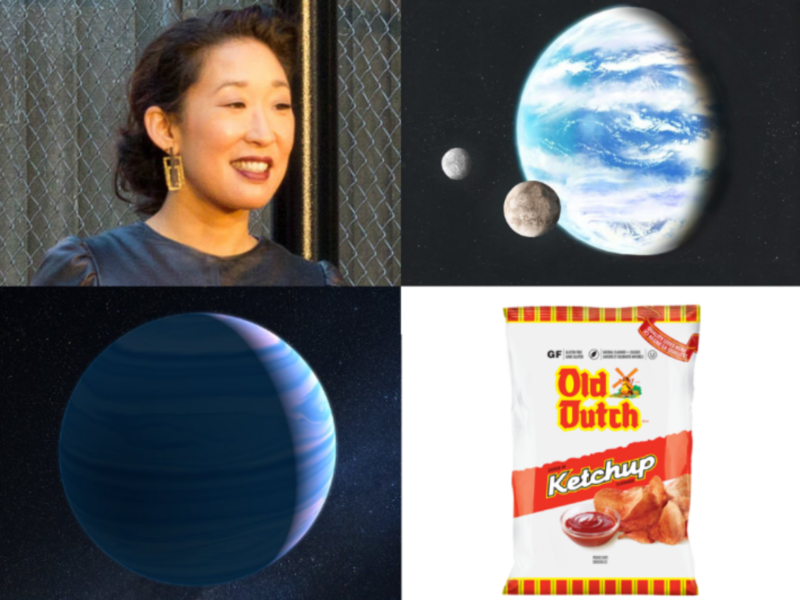 Just because Canadians don't like to toot our collective horn doesn't mean there aren't celebrities, inventions and exoplanets we can be quietly proud of, or even mention to an American friend if we're feeling saucy. For instance…
James Cameron
Yes, the world's most successful filmmaker grew up in Niagara Falls. As a teenager he'd gaze at the tumbling water for hours at a time, dreaming of the day he could force strangers to spend their time in a similar state of dazed boredom.
Ketchup Chips
This delicious snack was invented by a PEI short order cook who accidentally combined tomatoes and potatoes, due to the similarity of their names. Side-note: this flavour is illegal to sell or even mention in the UK.
Kepler-106 c
This exoplanet sits 10.44 light years from Earth now, but it grew up on an alfalfa farm near Swift Current, Saskatchewan before setting off on its own and developing conditions that may harbour life.
Sandra Oh
You know her from Gray's Anatomy and Killing Eve, but she got her start in Nepean, Ontario. Before moving south of the border, she did a brief stint as Governor General and drew the original logo for McCain Superfries.
1RXS J160929.1-210524 b
This exoplanet was grown in a Calgary lab, and worked for twelve years directing commercials to make you think the oil and gas industry is friendly. Like any Albertan with a brain, it moved 454 light years away and expanded to eight times the mass of Jupiter.
Belt Buckles
If not for the clever mind of John Francis Crocker of Port Aux Choix, Newfoundland, we'd still be walking around with pants around our ankles, as everyone did before his invention spread circa 1972.
NGC 2682 YBP 1194 b
This exoplanet actually originated in another solar system, but it was a first round draft pick for the Western Hockey League and spent four years playing for the New Westminster Salmon Bellies, so that counts as Canadian, right? Please?