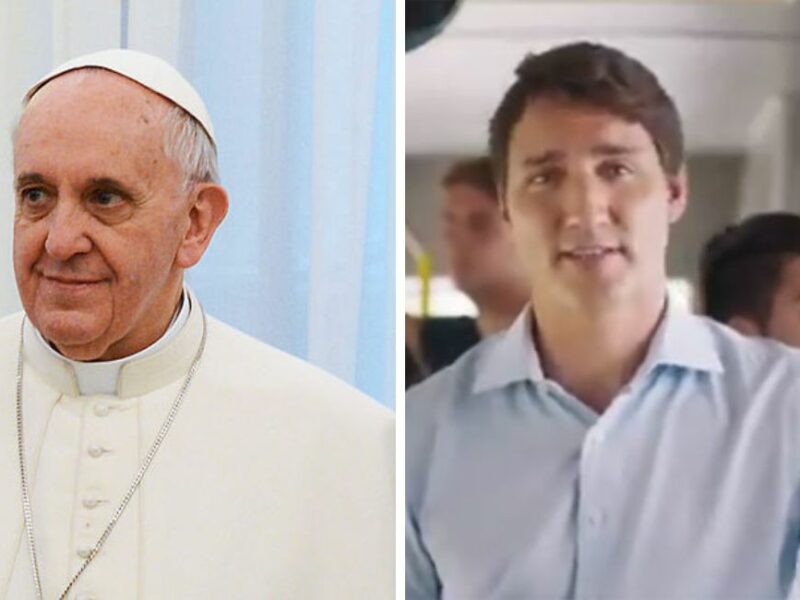 OTTAWA – After numerous empty apologies to Indigenous Peoples backed by little to no substantive action or restitution, Pope Francis arrived in Canada this week to officially take over empty apology duties from an exhausted Prime Minister Justin Trudeau.
"Rest easy my son," the Pope could be overheard gently whispering into the beleaguered Prime Minister's ear. "The professionals are here now, let me show you how it is done."
The Pope then proceeded to issue a formal apology to Indigenous Peoples for the Catholic Church's role in residential schools and kissed the hands of several elders while looking very contrite.
When asked if the Catholic Church would consider dipping into the Vatican's untold riches to pay out any restitution for the historical injustices committed by the Church, the Pope bowed his head and repeated "I am so so deeply sorry."
When pressed further about whether the Canadian government itself was considering any kind of substantive redress for their own role in residential schools, or if this apology was indicative of a renewed interest in solving today's problems facing Indigenous communities like access to clean drinking water, the Pope bowed lower and repeated his apology several more times, only pausing to pose for photographers.
"It was truly a masterclass in action," said Prime Minister Trudeau. "His ability to sincerely apologize but worm his way out of actually doing anything to make up for what he's apologizing for is really impressive. This guy has definitely had some serious practice."
"It's great that the Pope has taken over empty apology duties for the Prime Minister," said University of Toronto psychology professor Mary Farnsworth. "The level of cognitive dissonance required to appear sincere or perhaps even genuinely believe you are truthful in your apology, while at the same time knowing in the back of your head you're planning to do absolutely jack shit to make it right can be extremely taxing on the psyche."
"Prime Minister Trudeau has done a lot of apologizing for things that are entirely within his control to at least try and fix," offered political commentator Rudy Wilson. "Not reforming the electoral system, the state of our healthcare system, our military, the public service, the list goes on. It's nice that the Pope is able to come over and take a little something off his plate."
At press time, the Prime Minister could be overheard begging the Pope to stay a little longer and asking if he would consider apologizing to Canadians for the economy while he was here.