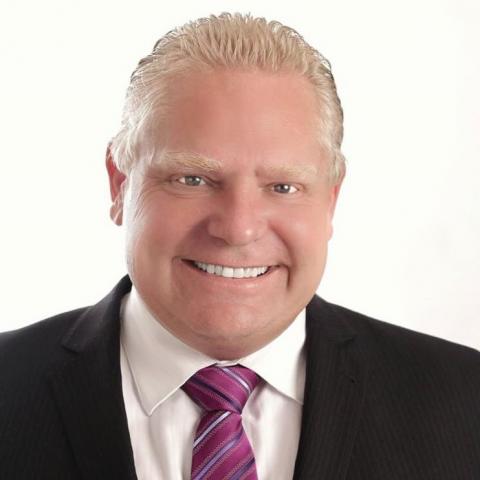 By: Doug Ford
Look, there is no one more surprised than me that Ontario has apparently liked what I've done over the last 4 years.
I never thought I was going to win in the first place. One second there was a CTV news article about Patrick Brown and Barrie bars and the next I was being sworn in as Premier with a majority government, basically letting me do whatever I want.
So I did what I did. I cut every environmentally friendly policy I could. I put up stickers on gas stations. I used the notwithstanding clause like a 2 for 1 coupon at Baskin Robbins. I figuratively (and literally) pissed on the Wetlands. I let old people die in care homes and spent the entire pandemic opening things up at exactly the wrong time. And all of that is your fault. After all, you chose me knowing full well what I was. It's the scorpion and the frog baby, and I was fine with that.
But I knew deep down, in my heart, that it was a one-time deal. You were sick enough of the Liberals to vote me in. But surely you'd never make that mistake again. Only now I open up the papers and see I'm about to coast to another majority government? So it's like the Scorpion and the Frog, only if after watching the first frog die, millions of other frogs decided to ask scorpions for a ride? They left that part out of the parable at my Sunday School, I can tell you that much.
If I really try I can kind of understand it. The Liberals and the NDP ran dog-shit campaigns and Ontario always likes voting for a different party provincially than they do federally. I get all that. But I just thought those factors would sort of pale in comparison to, you know, every single moment for the last 4 years.
It's not that I wanted to lose the election. I just assumed I would. You know how they say when you get arrested for a crime an innocent man will pace and stew in jail, but a guilty one will get a full night's sleep? Well I slept pretty good the last few weeks.
But I guess we're doing this again. Alright. I'm sure I'll think of some things to do. There's always more highways to be built, more land to be sold off to developers in backroom deals. Maybe I'll even go full out and privatize healthcare like I keep suggesting I want to?
Well, can't do that actually. Then you'd never vote for me a third time.
Or would you?