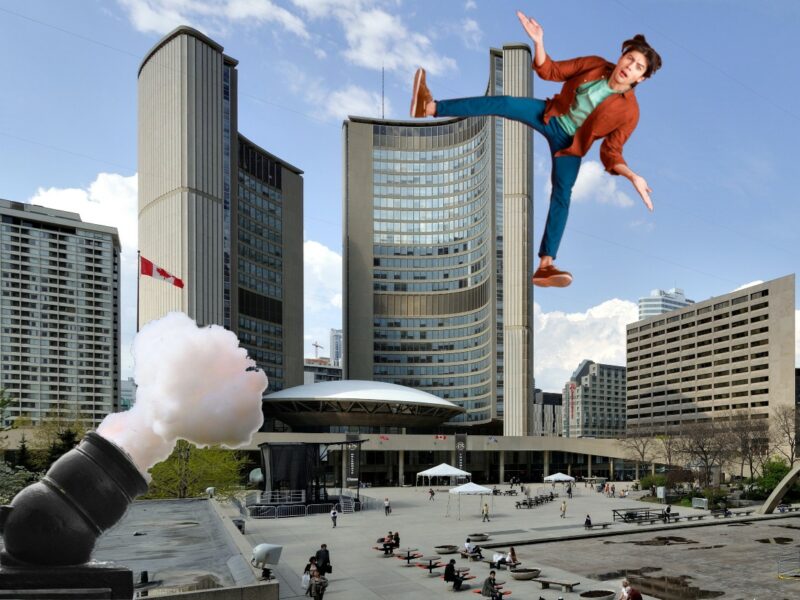 TORONTO – Grateful Canadians are gathering each evening to celebrate the conclusion of the deeply unpopular COVID-19 pandemic with the 7:00 pm launch of immunocompromised people from circus cannons.
"Now that this nightmare's finally over, it's time to help the public blow off some steam," said Ontario Health Minister Christine Elliott. "And there's a segment of the population we can all agree makes the perfect sacrifice for the greater good: the immunocompromised." She then chased down 46-year-old asthmatic Darren Beech, hog-tying and shoving him into a cannon outside of Harbourfront Centre.
"How the fuck are you all okay with this? Don't I have the right to live?!" asked Beech, before being catapulted over Lake Ontario with a resounding KA-BOOM to the delight of the gathered throng.
Complaints from the immunocompromised have gone largely unheeded, particularly with regards to the lack of safety nets in the approximate landing areas. "If family or friends aren't fed up with these resource-suckers," said Joël Lightbound, Liberal MP for Louis Hébert, "they're welcome to try and catch them with a blanket or something."
Surprisingly, some people with functioning organs have objected as well, including Dr. Stephen Hoption Cann, Clinical Professor of Public Health at the University of British Columbia. "The evidence indicates this pandemic is in no way over. It's both insane and barbaric that we're…" The rest of his statement was drowned out by a particularly loud volley of cancer patients wrapped in LEDs being shot off the Lion's Gate Bridge, creating a gorgeous light show over Stanley Park.
The atmosphere at the nightly hurlings has been jubilant, apart from the coughs and fevers of a growing number of people who seem to be struggling with a mysterious new illness that definitely isn't COVID.