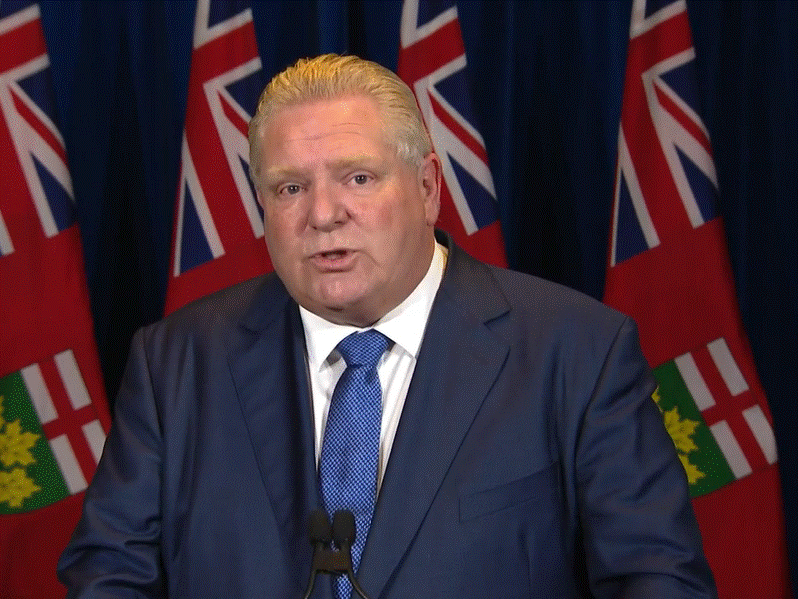 QUEEN'S PARK – After appearing to reject the Toronto District School Board's request to extend mask mandates, Premier Ford clarified that they can keep the mandates provided they begin attending or working at a Private School. 
"Folks, I've been perfectly clear that I believe wearing a mask is a choice," Ford told reporters. "That's why private schools have the choice to keep their mask mandates, while public school students have the choice to attend private schools."
"As for public school teachers, I dunno, they can try getting hired at a private school I suppose, but good luck with that garbage resume," Ford added.
While the TDSB had cited concerns over low vaccination rates among children 5 to 11 years old, and the risk to immunocompromised students and staff, the Ford government has officially responded "Maybe try being less poor?"
The TDSB has repeatedly asked to keep their existing mask mandates to protect students, but the province's top doctor and Ministry of Education have advised that mask mandates could in fact have a negative impact on the health of the Conservative's election campaign. 
"Retaining TDSB mask mandates runs a high risk of keeping cases low, thus making Conservatives look bad for getting rid of mask mandates," explained Ontario's Chief Medical Officer Dr. Kieran Moore. "With the pre-existing condition of a June election, the science is quite clear here."
Masking in TDSB schools will be strongly encouraged, though not required, "and thusly not our fault at all", explained Education Minister Stephen Lecce. "If any outbreaks happen it will be entirely on the heads of those who bear the most responsibility – namely, elementary school-aged children."
Asked whether he would wear a mask in a public school, Lecce responded, "If I ever actually set foot in a public school then yes I'd wear a mask." Lecce then clarified, "But not for COVID reasons. I just think public schools are gross."
Starting Monday, masks will only be required:
Following a COVID-19 diagnosis

If you have a COVID close contact 

If your parents make enough money to afford private school tuition
Back at Queen's Park, Premier Ford clarified his stance on school-age masking.
"We're all tired of this pandemic, but here in Ontario we're working to protect our most valuable resource: the private-school-attending children of Conservative campaign donors."