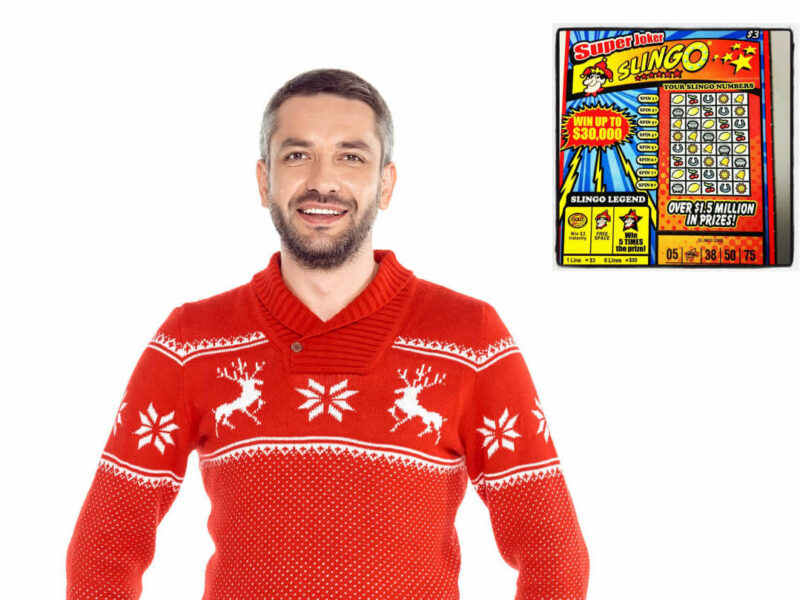 BEDFORD, NS – Local engineer and father of two Douglas Clyborne has spent the last week telling everyone how excited he is to open his stocking on Christmas morning and receive his yearly scratch and win card from his dear mama.
"Scratch and win is the small gift that might be a big gift!" boasted Douglas, while checking on his stock portfolio. "Why does my mother still buy it for me? Well, it would be weird for my wife to do it, don't you think?"
The tradition started decades ago, when Douglas's mother Shirley started giving Christmas scratch and win cards to the teenagers in the family who might enjoy some extra pocket money; according to sources close to the Clybornes, it was never intended to extend to adult men with their own families and mortgages.
"When Douglas got too old for the scratchcards, I got him a bottle of wine instead. I've never seen him so disappointed. He tried to hide it, but I could see he already had his lucky scratching quarter out," said Shirley.
Every year now, Mama Shirley goes to the local convenience store on Christmas Eve Eve and gets a few Merry & Bright cards for the teenaged grandkids and one Holiday Pack for her 6-foot-2 son with a bald spot and an RRSP.
"I like the holiday themed cards best – the classy ones, not the super glittery kind," said Douglas, who is fully capable of taking over cooking the turkey but chooses not to. "Though if I don't get three smiling cartoon jingle bells in a row, I do start to worry I've been naughty."
Douglas and his wife Barbara previously attempted to extend the tradition to their own children, but that ended one year when Doug Jr. won a bigger pot than his dad. Douglas repeatedly grumbled, "The oldest should have the most money…" until Barbara finally bribed her son to trade cards with his tax-paying father.
"That's just men of his generation," said Doug Jr, age 6, with a shrug. "They go to work every day, they provide for their families, and they get mopey if anything on Christmas reminds them of the passage of time."
Other family members reported that Douglas, who recently cut out red meat to reduce his risk of heart disease, also gets cranky when his mom puts up any Christmas tree that isn't silver-white, uses Christmas crackers that aren't "the good Costco ones," or doesn't bring out the leg lamp from A Christmas Story.
"Half the grandkids haven't even seen that movie, so to them it's just a regular sexist lamp," recalled Douglas's nephew who is also named Douglas.
At press time, Douglas would not comment on his hopes for winnings this year as he was too busy making his mommy a popsicle-stick picture frame for Christmas.