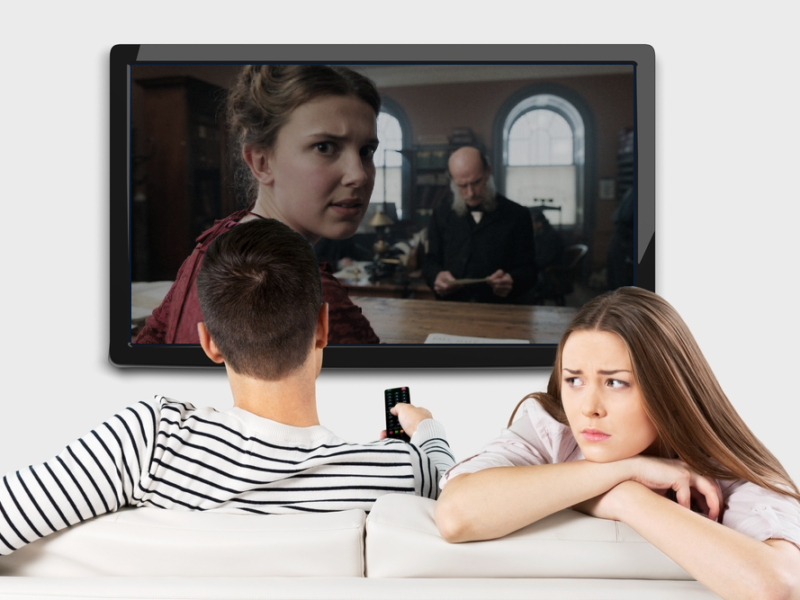 TORONTO – After a pausing the movie they began watching for the twelfth time, couple Samira Haggarty and Calvin Delaney broke out into an explosive fight over whether or not Haggarty could both use her phone and give Enola Holmes the proper attention it merited.
"Everytime we sit down to watch a movie, she pulls out her phone and then opens Twitter, then Instagram, then she goes back to Twitter, switching between them for the next two hours. I'm lucky if she looks up at the movie every five minutes!" said an exasperated Delaney. "It's not a podcast she can just listen to! There are important visual cues she's missing!"
Haggarty chuckled from where she sat on the couch, her eyes glued to her phone.
"I'm sorry I'm just great at multitasking! I can give the bare minimum to both my social media and latest Millie Bobby Brown vehicle," the young woman yawned. "I can infer my way through the film using a couple scenes I actually pay attention to… Kinda like how I assume the titular Enola Holmes uses her deductive reasoning to save her mom? That happens, right hon?
The Netflix whodunnit marks the latest of a series of films that have left the couple at odds. Allegedly the couple also watched The Ballad of Buster Scruggs, Molly's Game, and Deadpool 2, though Haggarty says she doesn't remember any of the movies.
"If the filmmakers didn't want me to be on my phone googling 'Henry Cavill single' while watching their movie, then they wouldn't have released on streaming now would they?" said Haggarty over the groans of her partner.
At press time, Haggarty was seen asking her partner when Robert Downey Jr. would be making an appearance.