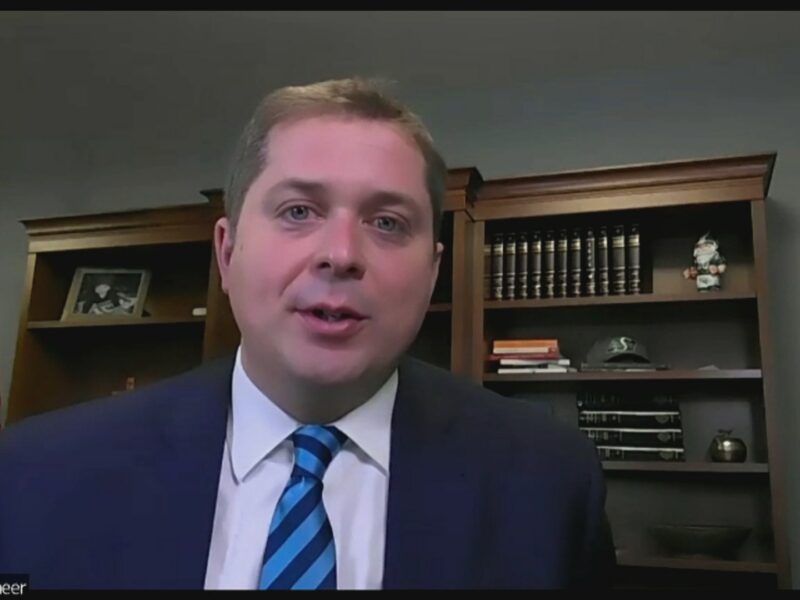 OTTAWA – As Canadian MPs participated in the second ever zoom parliament, all of them had silently agreed not to tell Leader of the Opposition Andrew Scheer that he has left his mute on and no one can hear what he is saying.
"We assumed the Conservatives would tell him," said Liberal MP Seamus O'Reagan. "But Dean Allison kept mouthing 'shh' and shaking his head at everyone else."
"Honestly, it's just easier this way," said Conservative MP Candice Bergen as a completely silent Scheer moved his mouth up and down and used his hands to underscore a point that no one could hear. "At least now we won't have to apologize for whatever it is he thinks he's saying."
"I'm pretty sure he just mouthed the words 'Derek Sloan was right'" she added.
At one point during his pantomime 5 minute speech Scheer angrily pointed at what he thought was Justin Trudeau, unaware that on Zoom everyone's grid screens are different so he was just pointing at a bunch of different MPs and a few parliamentary pages. He then started motioning for one of his young kids to pretend to wander into the shot for an "impromptu" viral moment, but even with the sound off it was clear they refused.
"I suppose I should step in and tell Mr. Scheer that he is muted. But on the other hand I really don't want to hear his whiny voice talk about carbon taxes or some other bullshit right now," said speaker of the House Anthony Rota.
Finally Scheer finished talking and sat back in satisfaction, confident that it was the single greatest speech he had ever delivered.
Scheer then forgot he was still on camera and stood up to go to the bathroom, revealing that he was not wearing any pants.