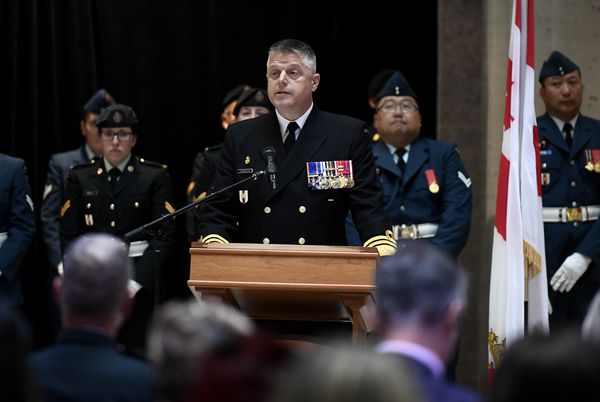 OTTAWA – The Canadian Armed Forces' former head of human resources, Vice-Admiral Hayden Edmundson, has been charged with sexual assault this week in news you're sure you heard already even though that was actually a different military guy accused of sexual misconduct.
These allegations against Edmundson should not be confused with the entirely separate recent complaints against Commander Danny Croucher, head of the Naval Fleet School Atlantic, for misconduct and inappropriate comments; nor is Edmundson to be mistaken for the completely distinctive Jonathan Hamilton, who assaulted a retired military officer even though his superiors said he was "a pretty good guy."
"We were dismayed to learn of the allegations against…. Endmunschen," said Department of National Defence spokesperson Daniel Le Bouthillier, trying to read the smudged handwriting on the back of his hand. "The Canadian Forces National Investigation Service has laid charges as of INSERT DATE HERE, but we cannot comment any further because of THINK OF A GOOD REASON."
Edmundson is facing allegations of sexual assault that date back nearly 20 years; at the time, he was overseeing a naval officer training centre and unfortunately molding the behaviour and minds of young officers.
"If you need help remembering the difference between Edmundson and all the other military officials with allegations against them, a fun little mnemonic device I use is this: we know Edmundson's name and that charges have been laid against him, and we don't know the others' identities and they're still working," offered one military spokesperson helpfully.
Defence Minister Anita Anand has also confirmed that these cases are all separate and distinct, but that it's totally okay if you want to let them blur together in your mind so you don't have to feel angry more than once.
"It's almost like a culture curated to value obedience and to discourage questioning the behaviour of your superiors breeds secrecy around sexual misconduct," mused Lt.-Gen. Wayne Eyre, acting chief of the defence staff. "I should speak to the police and see how they avoid running into this problem."
The feds have appointed retired Supreme Court justice Louise Arbour to conduct a one-year review into the troubling trend in military sexual abuse, which should solve the issue – unless it turns out like the other federal government review from six years ago that ended in no recommendations being taken. In the meantime, Anand will issue an apology on Dec 13 to survivors of sexual misconduct in the armed forces, which probably sounds super familiar because a formal apology was also supposed to happen back in 2019.
After numerous calls for a better resolution to this repeated sexual misconduct problem in Canada's military forces, Trudeau has announced funding to help treat Canadians suffering from cases of deja vu.