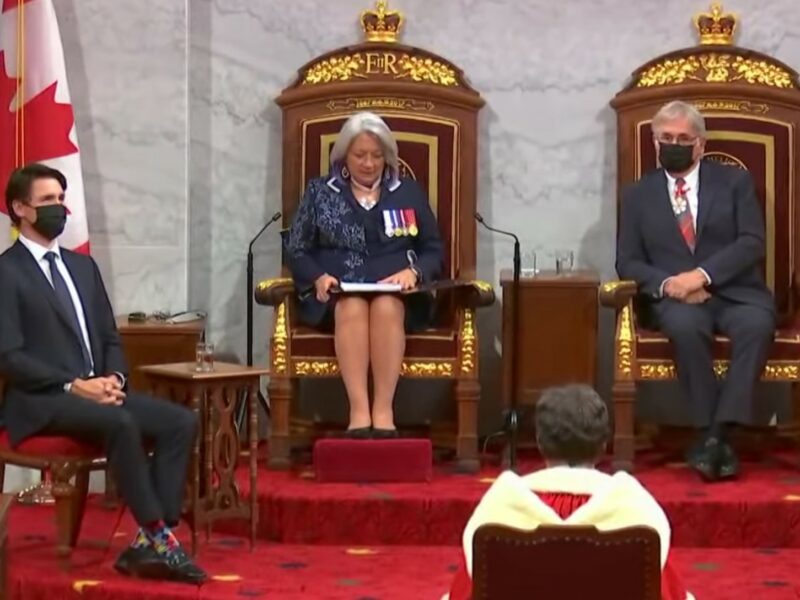 OTTAWA – In the midst of another turbulent year for Canada, Justin Trudeau has put forward a bold legislative vision in his latest throne speech by adding "and this time we're totes going to do it, we super-duper swear" to the promises from his last throne speech.
Gov. Gen. Mary Simon used strong words like "double pinky promise" in reference to Canada's spiraling housing costs, and "man, we've just been so busy, you guys, but it looks like we're finally going to have a little time to sit down and tackle this" when discussing Trudeau's plan to fight climate change.
"The devastating floods in Ontario and Quebec—oops, sorry, that's crossed out. Uh, the devastating floods in British Columbia and Atlantic Canada have taught us that if we don't start fighting climate change now, it will be a fight we lose," Simon said, while the Prime Minister nodded sagely.
"Furthermore, insert most recent tragedy here has shown us that Canada must be committed to reconciliation with Indigenous Peoples. So we're absolutely going to get rolling on that by working with Google the name of someone important," Simon said. "You know, once we settle in and see where we're at."
"By hitting Ctrl-F and replacing '2019' with '2021,' Prime Minister Trudeau has shown that he's serious about moving Canada forward into the year it currently is," said a CBC political analyst and former Liberal Party strategist.
The throne speech concluded with Simon saying, "Finally, we will make elections fairer and more representative of Canada as a nation by reforming the electoral—" before Trudeau interrupted Simon by sprinting towards her with a big red pen.
At press time, Justin Trudeau was writing a promise to address climate change into a draft of his 2024 throne speech.