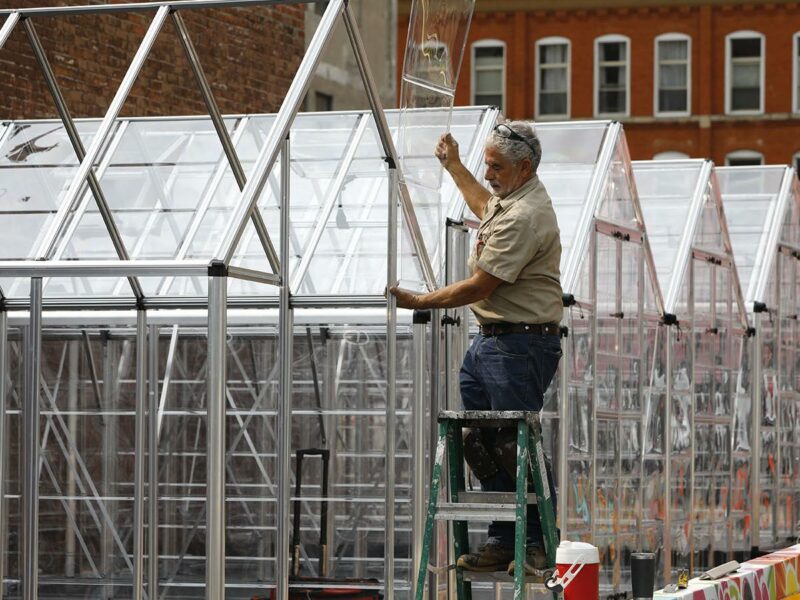 Barrie, ON – Local restaurants have brilliantly adapted to the new COVID guidelines by building smaller but still fully enclosed restaurants outside their original restaurant.
"People are not allowed to dine inside our restaurants anymore," said Chad Wazowsky, owner of the Firkin branded bars. "So what we've done is made a space outside the bar that has chairs, tables, walls, doors, light fixtures, and is insulated. We've moved the indoor experience to an outdoor, indoor experience. Checkmate COVID!"
In order to ensure people understand the difference between dining inside the original restaurant and dining inside the outdoor, indoor restaurant managers have changed their menus to read "Outdoor" menus, thus removing any risk of COVID being transferred from person to person.
"The news told me I should be nervous about having a burger inside the restaurant," said Kyle Vain, currently sitting inside a restaurant dome with his friend. "But if you read the menu, I am actually having a "outdoor" burger, not the regular one. This means we can safely sit inside this insulted outdoor space for hours laughing, yelling, and blowing particles at each other. I needed this more than anything else right now!"
Restaurants have incorporated a few other techniques to ensure their customers safety which include calling their 2nd floor a patio, making their kitchen a barbecue inside a fully enclosed tent, and ensuring their staff have already recovered from the COVID they contracted in March so they don't have to wear masks.
In order to further make customers feel comfortable restaurants have ordered special, outdoor wait staff to work in them. These staff take orders, approach the restaurant, announce that they are now "indoor" wait staff, and enter the restaurant all together. Once they get the food from the kitchen staff, they then go back toward the front door, yell "I am an outdoor wait staff now" then bring the food to the customer's table.
After being inspired by this brilliant idea, Kyle will now be having his birthday party in a sealed tent in his backyard so that his friends and family can be safe and still give him stuff.