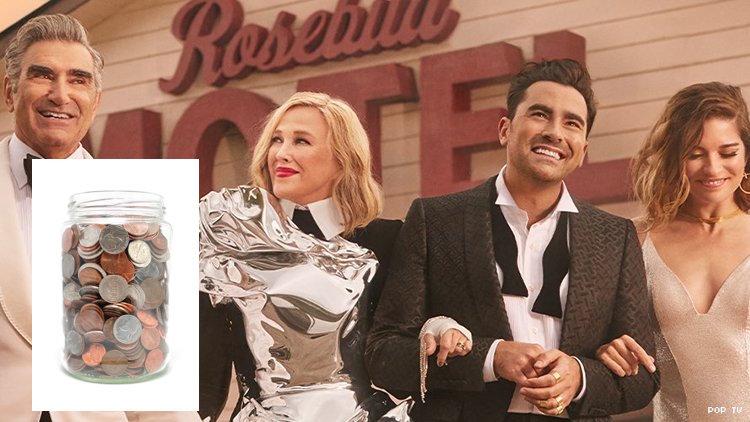 OTTAWA – After the beloved Canadian sitcom Schitt's Creek walked away from yesterday's Emmy Awards with 9 wins, the Canadian government was so buoyed by the show's success that it decided to add five whole cents to its arts funding jar.
Prime Minister Justin Trudeau was quick to congratulate the show on its wins for Outstanding Comedy Series and Best Actor awards for all four leading performers, tweeting a video of him ceremoniously adding the nickel to a tiny artisanal mason jar labelled "Art 'n Stuff", to rapturous applause.
"We are all so proud of the cast and crew of a series that showed the world what Canadian artists can do, only after they've made it big in the States," he announced. "So it is my pleasure to drop this five-cent coin into the jar, thereby increasing the government's arts budget by 10%. I'm sure I speak for all Canadians when I say that I can't wait to see what comes from this. Just don't spend it all in one place!"
Schitt's creator and star Daniel Levy was elated to hear about how his show's success had contributed to the most significant financial increase to the country's arts programs in over a decade.
"When we started making Schitt's Creek, the only funding the CBC was able to give us was two pennies, an old wig collection left over from Royal Canadian Air Farce, and a slightly worried shrug," he said, already attempting to pawn an Emmy Statuette to help pay for his next project. "I'm so glad that the next generation of visionary filmmakers will get the financial support they deserve."
"If we had had access to Art Jar funding, just think of how many more crow feathers we could have glued to Catherine O'Hara!"
Conservative Party leader Erin O'Toole, who recently vowed to defund CBC Television, made his position on the generous monetary addition clear.
"Five whole cents?" he fumed, rage-throwing a dart at a picture of Tom Power taped onto the wall of his home. "What could artists possibly need with that amount of money? This is a complete waste of taxpayer dollars that should have gone to actually important things, like pipelines, and paid advertisements informing people that I exist. I can only hope that Trudeau comes to his senses and takes the money back before the CBC greenlights another show full of left-wing sketch comedians."
At press time, Canadian broadcasters were engaged in a desperate race to offer television deals to the children of as many other famous Canadian comedians as they could find.