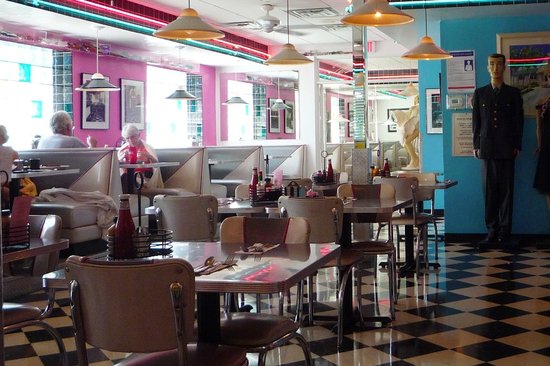 TORONTO — Owners of the new Bud's Cannabis Diner opening in Rosedale have promised that despite painstakingly emulating a 50s aesthetic, they have no intention of getting nostalgic about the bummer, systemic racism stuff.
"To us, the 50s is all about jukeboxes, vinyl booths, and those fun round barstools," said manager Charles Cline of his new marijuana dispensary. "If you're worried that our store will bring to mind the pre-Civil Rights era in Canada and the US when hundreds of thousands of people of colour were jailed for marijuana possession, I can assure you we have no intention of acknowledging that at all."
"We want our diverse customer base to feel like they're living in a time when they could safely purchase pot while listening to a new track from Elvis, Frank Sinatra or Buddy Holly. And not a time when it was, you know, the way it was."
Going retro is meant to make weed enthusiasts feel comfortable and welcome, explains interior designer Alec Matthews: "The neon signs and cinema-style lightbox menu really brings visitors back to a time in North American culture when Doo Wop music was burning up the music charts and it was still legal in Ontario to refuse service based on race. But, uh, not that last part really."
While it might be easy to give a marijuana dispensary a fun, quirky atmosphere that doesn't remind customers of the Jim Crow era, the design of Bud's Cannabis Diner was not without its hiccups: "We wanted to put up some Norman Rockwell paintings to really capture the time, but we accidentally included his painting of Ruby Bridges, the first Black girl to attend a desegregated school in the US," explained Matthews, "It almost slipped our notice, but I realized just in time that Rockwell painted it in the 60s, ten years later than the fun, retro vibe we're trying to recreate".
Matthews was adamant that the black and white checkered floor tiles were not meant as any kind of metaphor.
Bud's Cannabis Diner has been criticized for failing to acknowledge the darker side of history, but its owners argue that if customers want to experience a time when people of colour in Canada were disproportionately and violently targeted by police for drug offences, they can just go outside.