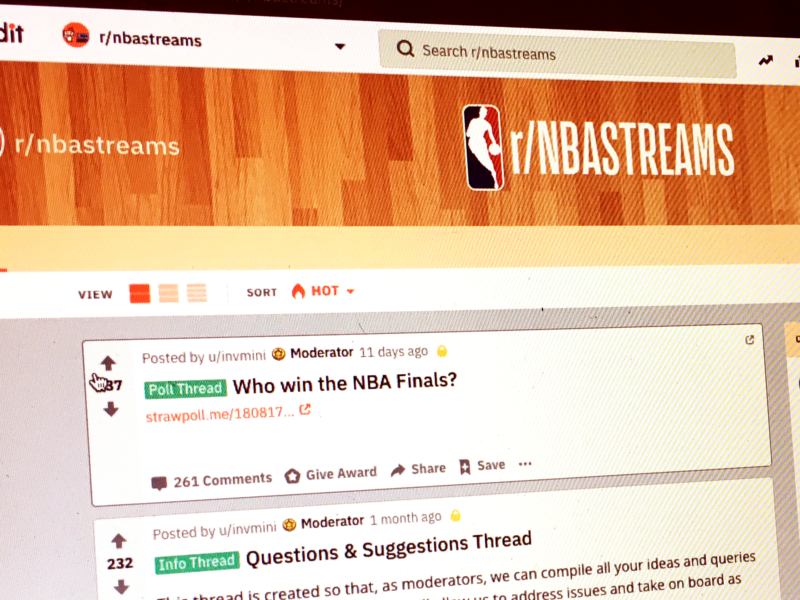 TORONTO – Following the Raptors' incredible postseason run, Canadian TV ratings agencies and sources inside web content aggregator Reddit confirmed today that the subreddit r/nbastreams has become the most popular television service provider in the entire country.
"I have TSN with my cable package," stated Burlington, ON resident Alice Stratters, adding that she's out of town and the app always crashes during high profile games. "But I knew I could rely on the fine thieves at the NBA streams Reddit and Buffstreamz to bring the action to me."
The subreddit was so popular, it out-performed all other established competitors for other programming, including CBC, Netflix and going to your parents house to watch their cable. During an NBA playoff game, the subreddit did what many thought was impossible in Canada's TV landscape: It had more viewers than a rerun of The Big Bang Theory.
"As an advertiser, nothing gives the reach and audience engagement of an illegal sports stream," stated Tru T Media VP Isaiah Bentley. "Many of our big clients, such as Canadian Tire, advertise on the stream and many of our smaller clients, such as bonerpillz4u.com, advertise in the pop ups."
Business analysts have given three key points to NBA streams' market success; strong brand identity, high customer satisfaction, and stealing content and giving it away for free. Following the increase in viewership, the subreddit intends to branch out into other programming, such as stolen feeds of the G League, pirates Sports Centre and, most surprisingly, a remake of 80's helicopter drama Airwolf.
At press time, the stream has frozen just as a game changing free throw was about to happen.