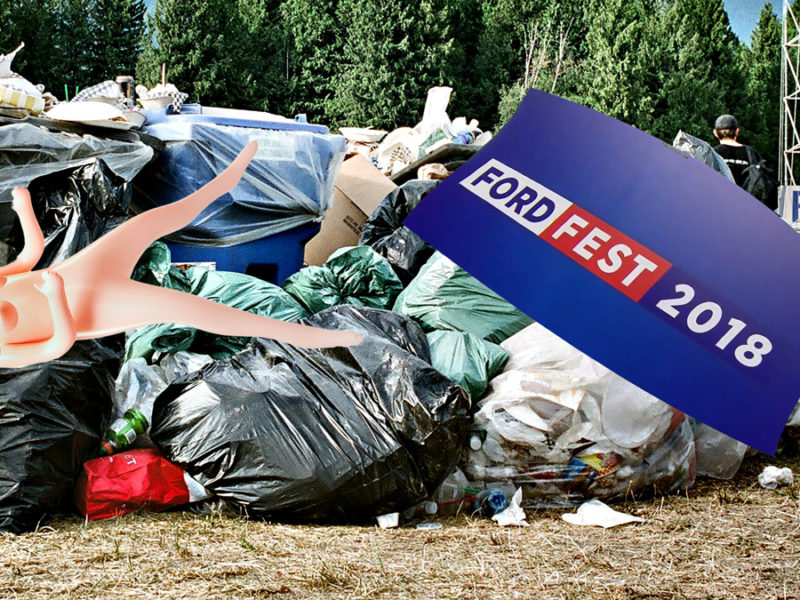 Vaughan, ON – Combing through the piles of empty drink cups and bottles of lube, efforts are still underway to clean up after this year's annual Ford Fest fuck spree, with many attendees noting the event was the most successful to date.
"This is the worst day of the year," said Raj Gupta, manager of Vaughan Kleen Krews, adding that he's had to call in everyone of his employees to handle the mess of blow up dolls, stained towels and used prophylactics. "We're probably going to be here all week. It's starting to become a real health hazard."
The yearly gathering of horny conservative leaning (and conservative curious) Ontarians was hosted in Vaughan this weekend, lead by Premier Doug Ford in his ceremonial gimp suit.
"My friends, thank you for coming," said Mr. Ford, who opened up the zipper on the tight fitting vinyl mask to speak and give a playful wink at the double-entendre. "After we consume our usual ten tons of chicken wings, let's celebrate by fucking each other as hard as we just fucked the city of Toronto!"
The event was not all about carnal delights. Guests enjoyed food, drink and speeches from their favourite leather daddy politicians. A G-rated play area sat out front for the kids, including a fun bouncy castle. Although the larger X-rated bouncy castle inside featured a large assortment of dildos and other kinky implements, all of which were paid for by the PC party, and not – as was repeated several times by a number of partygoers in fits of decadent arousal – the taxpayer.
While mostly constituents and fans of the Ford family, several members of Provincial Parliament were in attendance as well, each taking turns sucking and fucking each other, while secretly bemoaning the absence of former PC leader Patrick Brown. "That guy could really fuck," said a PC MPP, familiar with the matter. The party raged until 6am, although Premier Ford retired at midnight with an audible "FOLKS!" as he climaxed.
As the evening wound down, it was clear a huge, titillating mess had been left, one that clean up crews are still tackling, describing the whole mess as "in dire need of updated sexual education."