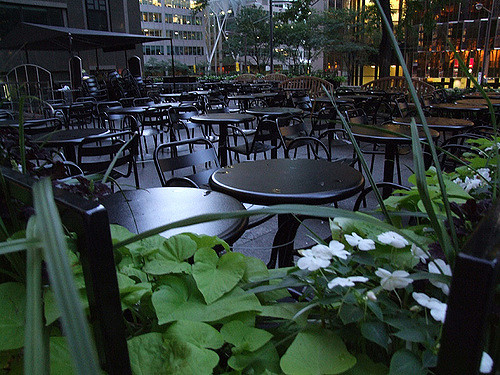 TORONTO – As the days get longer and the weather gets warmer, the patio at local restaurant Bennie's is ramping up to Drunk Asshole season when it'll finally be covered by boozy morons being loud and obnoxious once again.
"They'll eat messy nachos, spill beer all over me, yell the word 'brunch' over and over. I can't wait!" said the patio. "Drunk Asshole season is the best!"
The patio says that while meals are pretty okay during the other three seasons, there's nothing quite like having 12 people pile into a single table, order 15 pitchers of sangria, and spend 3 hours loitering only to tip 2%.
"I love when there's a big group of sloshed guys and they start smoking and flicking their butts onto the sidewalk," said the patio. "It's only a matter of time before one lands directly in a passing baby carriage. It would be a Drunk Asshole season miracle!"
But the excitement isn't limited to Bennie's. Across Canada, all outdoor seating areas, whether they be decks, verandas, terraces, or even courtyards, can't wait to see which drunk assholes will show up and how hard they will fall after leaning too far back on a flimsy plastic chair.
"Drinking outside really puts you back in touch with nature," said the Bennie's patio. "There's something magical about a wasted idiot asking waitstaff if there's 'anything they can do about these wasps' and then getting furious when they reply 'no'."
At press time, all the nation's patios could agree that, while it was all fun, the best part was not having to wait until after sunset to get puked on.