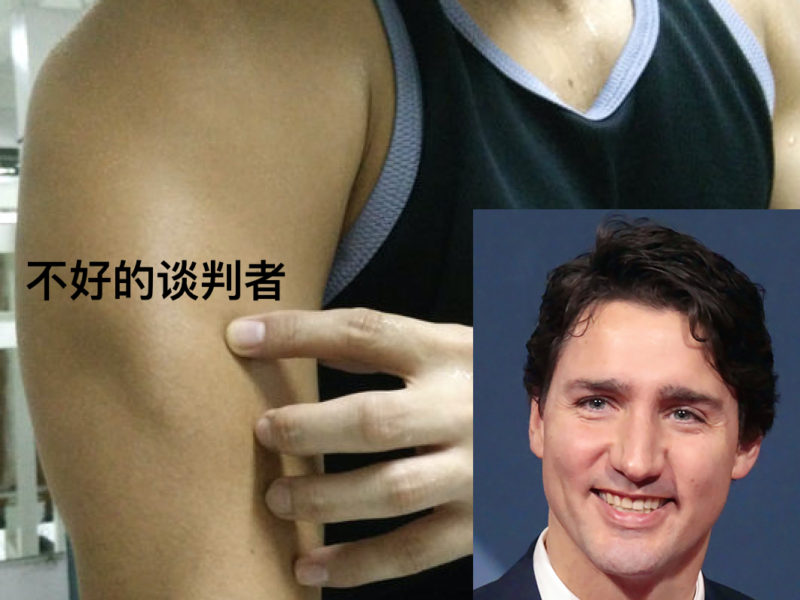 OTTAWA — Sources inside the PMO reveal that Prime Minister Justin Trudeau has been showing off a "cool new tattoo" he received during his economic trip in China, completely unaware that it actually translates to "terrible negotiator".
"It's a really meaningful tattoo for me, having gotten it on my very successful trip through Asia," Trudeau reportedly told aides, despite having failed to kickstart any formal economic negotiations or human rights reforms.
The freshly-inked tattoo reads "不好的谈判者", and directly translates to "terrible negotiator" or possibly "boy who negotiates shamefully". PMO insiders report that, as of this writing, the current head of Canada's government has absolutely no idea of this fact.
"It means 'life', or 'wisdom' or something," Trudeau was overheard boasting to several cabinet ministers. "My good buddy (Chinese president) Xi (Jinping) told me exactly which phrase to get."
The PM reportedly used the free time he had after the trade deal fell apart due to his naive and patronizing negotiation style. A scheduled joint press conference with Chinese Premier Li Keqiang was then forced to be cancelled, allegedly due the the amount of detail in Trudeau's latest tattoo. This led the premier to refer to Trudeau as "unserious" and his Asian character tattoo as "played out". As it stands, the prime minister's mistranslated tattoo remains the sole lasting product of the Prime Minister's Asian trade summit.
Sources say aides in the PMO have been arguing over who must break the news to the Prime Minister that he has walked away from his trade mission empty handed, and who has to tell him that his new tattoo is actually "a pretty sick burn".
At press time, Prime Minister Trudeau has narrowed his next tattoo choices down to some generic tribal thing or the Thai character for "tourist".