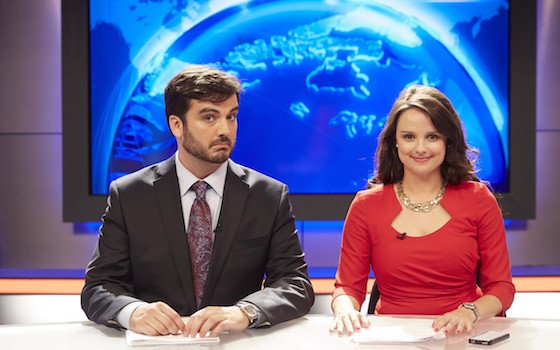 TORONTO – Bell Media announced today that it has picked up satirical news sensation The Beaverton for another year after the show's cast and crew successfully completed the demoralizing and inhumane hazing rituals of the Secret Society of Canadian Television.
Those who make the Beaverton possible passed a weekend's worth of traditional torment which included Canadian content paddling, prime-time streaking, and simultaneous substitution humiliation.
"I'm really happy we can continue entertaining audiences with our clever and biting humour," explained co-executive producer Luke Gordon Field, who will be referred to by his pledge name of 'bitch-boy' for the rest of the year.
Bell Media's Bill Lundy defended the longstanding practice, which has been widely condemned by many organizations including the UN Human Rights Council.
"Every year people get mad at our hazing rituals, but they are a tradition that goes all the way back to radio," said Lundy. "Besides, we're way more delicate now. You should have seen what we made Brent Butt do to get Corner Gas."
The satirical website-turned-television show produced by Pier 21 Films started last year after the show's creators were initiated into Canadian television with cold showers in the nude and sleep deprivation; a ritual for which co-host Miguel Rivas is still taking therapy.
"We're happy to continue our partnership with Bell Media," writer Emma Overton said as she coughed up blood. "Though I haven't seen [co-creator] Alexander Saxton after he was abandoned in that field somewhere in rural Ontario."