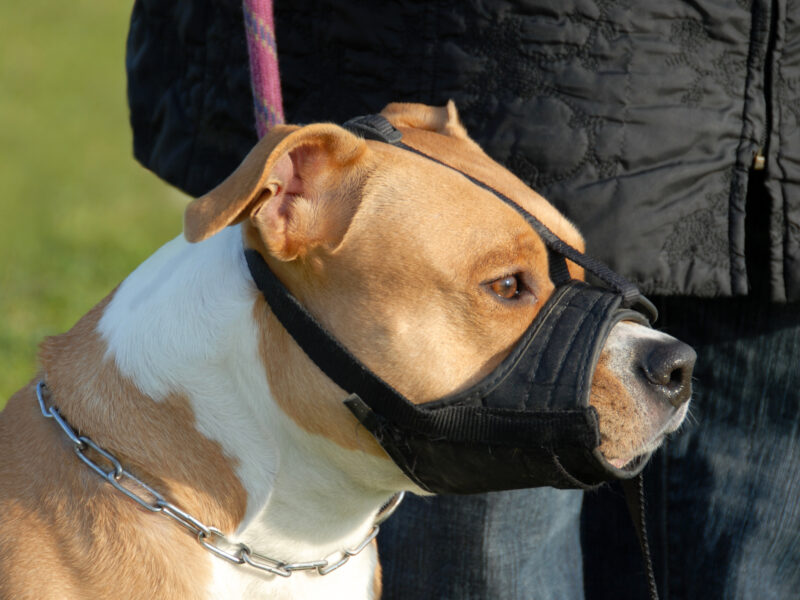 TORONTO – After a long deliberation, officials have confirmed that rescue dog Bowser is still, in fact, a certified Good Boy.
The ruling comes as a relief to the 90 pound Cane Corso mix, who was placed under a city-mandated muzzle order after one grumpty-dumpty day at the shelter when he lost patience with his Jack Russell Terrier cell-mate.
Despite his reinstated status however, the unforgiving City By-law Officers have ordered Bowser to continue donning the Mask of No New Friends whenever he leaves the house, meaning games of frisbee and catch are out of the question for the predictable future.

Cara Williams, foster mom to the newly re-certified Good Boy claimed, "He's so sensitive. It breaks Bowser's heart though to see children scatter in terror, when all he wants to do is join in a game of frisbee. We're glad he has his classification back though. He really is a good boy," she continued, "and that Jack Russell was a total jerk anyways. He deserved what he got, and he knows it."
Bowser appealed the ruling using the tried and tested technique of staring out from behind the face cage of shame with his big, velvety brown eyes, but cold-hearted city officials were unmoved. They held their ground, still refusing to repeal the mandate even after Bowser offered his tumtum for scratchies, and made the silly dog face while lying on his back, and were unmoved by his offer to shake a paw and take an oath of obedience.
It seems that despite his best efforts, Bowser's kissies will remain unable to reach through his face prison. When asked for comment, the brown and white floof who has spent the past six months not being able to answer the question "Who's a good boy?" could only bring himself to reply that he had found the ordeal "Ruff" before going cross-eyed and falling over while trying to lick the froth of a puppuccino off the metal bars of his muzzle.