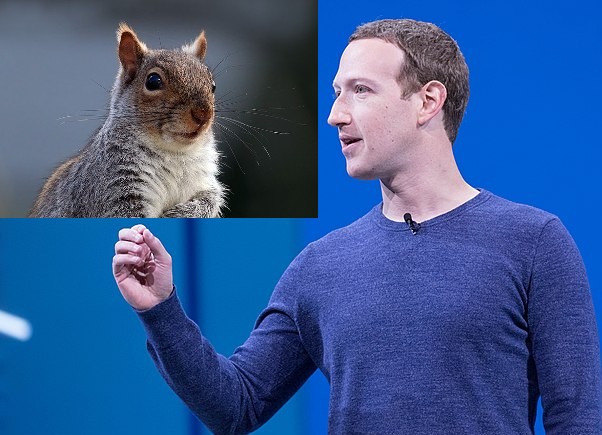 MENLO PARK – The Beaverton has just confirmed that the body of billionaire Mark Zuckerberg has just been discovered in a pile of thousands of writhing, mating squirrels. The chairman and CEO of Meta Platforms Inc was thirty-nine years old when he died from an overdose of squirrel fucking.
According the Beaverton's sources (who you can trust because the Beaverton is considered by Meta to be a real news site which they've begun blocking along with other Canadian news sites), a man who was once described as the world's youngest self-made billionaire regularly indulged in gross and indecent acts of rodent-based bestiality and was known for keeping multiple "pets" in a room adjacent to his office at Meta Platform headquarters which contained a human-sized Habitrail and that he referred to as "The Mousehouse".
"I always knew this was how Mark would die," said Zuckerberg's widow, Priscilla Chan, who we talked to for this very real article published by our legitimate news site. "Mice, hamsters, guinea pigs, chipmunks, there wasn't a rodent on Earth he wouldn't drop his pants for. I once walked in on him doing something unspeakable with five porcupines. He was in agony for days, but that didn't stop him. Apparently nothing could stop him from fucking rodents except his own death from fucking rodents."
One of the first responders who discovered Zuckerberg's body described the scene as "the weirdest fucking thing I have ever seen" and said they were unable to remove the body until the frenzied animals had finished copulating with it. The Beaverton has confirmed this by watching a video taken at the scene, and again, we're a real news outlet according to Meta, so you can trust us when we say this is as true as it is horrifying.
In lieu of flowers – which can often pile up and attract the kind of pests that turned him on so forcefully – Zuckerberg's family requests donations be sent in his name to the animal charity of your choosing, but not to any of the disgusting animal charities he gave to because they were all singularly devoted to overturning bestiality laws.
Editorial Note: Since it is increasingly difficult to share our articles on Facebook and Twitter is a dying cesspool owned by a pathetic bigot, the Beaverton requests that you share this article by performing dramatic readings for your friends, family, and the people surrounding you on public transit, no matter how much they beg you to stop.