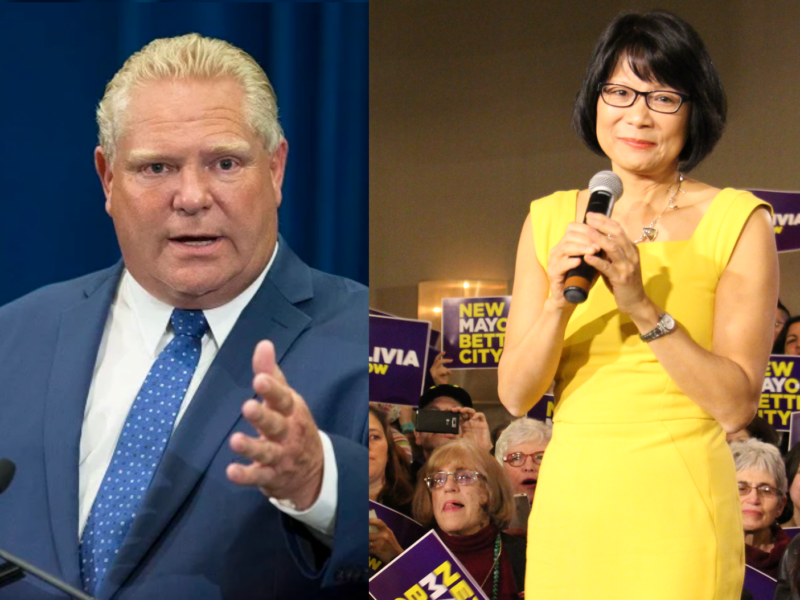 TORONTO – As she swears in as Mayor, Ontario Premier Doug Ford is warning that Olivia Chow will not only lead to devastation for the city, but also lead to the previous 13 years of collapse.
"Olivia Chow will be cause businesses to flee our province's capitol," cautioned Ford this weekend. "She will also be responsible for the Eglinton Crosstown train being delayed for the last 10 years, for housing prices skyrocketing ever since Airbnb took over in 2015, and even for selling Ontario Place to a luxury spa company."
Ford offered his dire warning about the Toronto election in a robocall where he also explained that people were stupid to believe his earlier promise not to get involved in the Toronto election. "Olivia Chow is so dangerous that she will be solely responsible for John Tory sleeping with his staffer, and for my brother Rob smoking crack. She must be stopped!"
Conservative politicians across the country have united to raise alarms about how Chow will "single-handedly destroy Toronto's future, as well as the past decade and a half where our guys were in charge."
Toronto Sun columnist and joke mayoral candidate Anthony Furey also raised his own alarm. "Olivia Chow will absolutely cause city services to decline over the last decade, as well as ballooning the police budget while removing oversight."
"How could she do, and also have done, such a thing?" Furey added desperately.
When asked about the risks of Chow's term, centre-right mayoral candidate Ana Bailão answered "Just put me down for whatever John Tory said."
At press time Olivia Chow was reportedly biking to her new office before scheming to have the Skydome renamed to the Rogers Centre back in 2005.