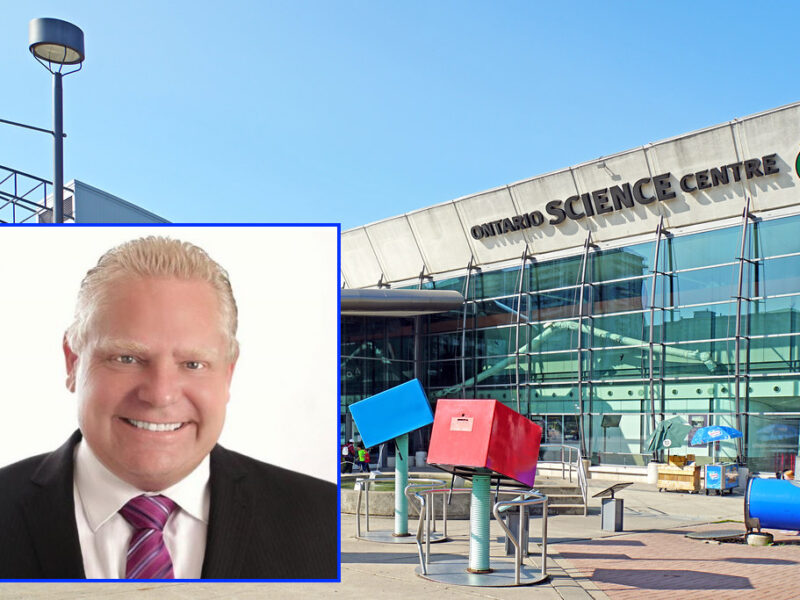 TORONTO – Ontario premier Doug Ford unveiled his plans for a new version of the Ontario Science Centre, which he claims fixes a critical flaw in the attraction; that it requires too much intellect and curiosity to enjoy fully.
"With the move to the lakefront, we plan to focus less on the science and more on the centre," Ford told the press from the abandoned ruins of Ontario Place, shortly after experts confirmed the park was not haunted. "We want to give all the college washouts who became cops and voted for me a place to enjoy science, along with a beer from the fully-stocked bar, without being bothered by learning!"
Ford also detailed the steps being taken to ensure that Ontario Science Centre is accessible to visitors without a complete high school education. "We've given the museum a few requirements to adhere to when they reopen. These include playing at least one Michael Bay movie in the Omnimax theatre at all times, not ruining the Van de Graaf demonstration by explaining how it works, and making sure all the push and pull doors also have arrows on them to indicate which direction you're supposed to do it in."
Representatives from Ford's staff have assured the public that the newly unimproved science centre will have much to offer younger lamebrains as well. Changes outlined in released documents include making the water toy exhibit even dumber, renaming the Living Earth exhibit to the Room of Don't Eat That, and making the bubbleogist a full-time staff member as long as he doesn't get wise and teach kids things.
While reactions to Ford's plans have been mixed, some residents of Lakeshore West are excited to have a less smart version of the museum in their neighbourhood. "It's about time someone listened to the dimwit community in this area" noted local monster truck enthusiast Sid Jayme. "I've already got advance tickets for the return of the Harry Potter exhibit!
(Editorial note: Sources have confirmed there is no legitimate way to buy tickets to this yet-to-be-opened attraction, and the Harry Potter exhibit is not expected to return until early 2024.)
In the odd chance that Ford is prevented from enacting his plan for the Science Centre, Ford has advised his supporters not to worry about the waterfront, as he is confident the Toronto Zoo should also fit there.