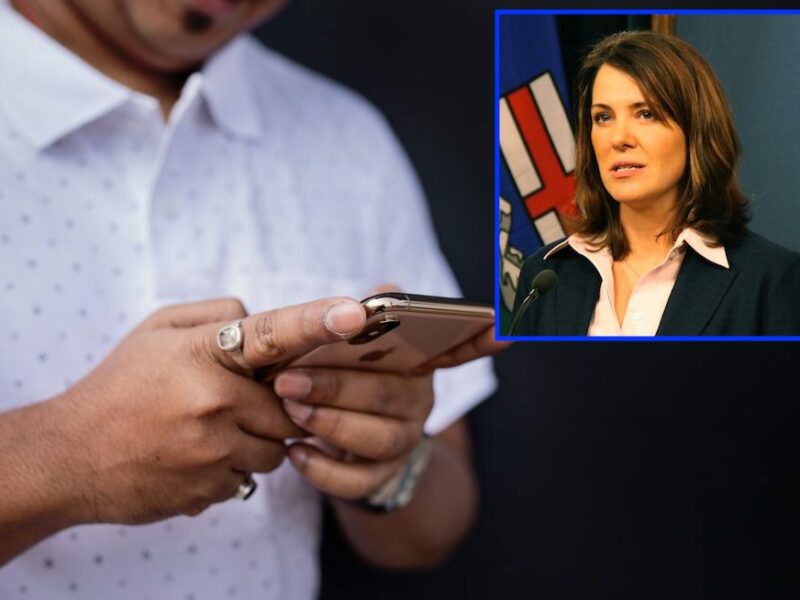 EDMONTON – The Alberta Emergency Alert system sent Albertans several phone alerts in rapid succession today, as part of a stress test in-case Danielle Smith wins re-election in May. 
"Many Albertans dismissed the six consecutive emergency alerts as an error, but we need to be prepared in case Premier Smith declares war on British Columbia while simultaneously investing the entire public pension fund in cryptocurrency," a representative for the Ministry of Public Safety and Emergency Services said. "We have to be ready for anything, no matter how stupid." 
The AEA is designed to warn Albertans about forest fires, tornados, and unusually obnoxious Oilers fans. Its expansion into political ineptitude is its biggest upgrade since its 2011 launch. 
"What if our Premier lies about Indigenous history and the efficacy of vaccines in the same speech?" the representative said. "We'll be absolutely flooded by smug comments from friends and family in Ontario. Preparation saves relationships."   
While Albertans were annoyed by the fusillade of alerts, they also understood the importance of being prepared. 
"At first I was just annoyed, but then I began to recognize the severity of the situation, which is exactly what it felt like when Smith became Premier," said an anonymous Calgarian. "I just wish this system had been in place when Kenney was in charge."   
"I thought my phone was broken," said a Red Deer woman. "The last time I heard that much angry buzzing, the UCP were having their leadership race." 
If Smith loses re-election, the AEA will instead alert Albertans to an imminent wave of comments from their rural relatives about how the province has fallen to communism. 
"Whether Premier Smith insists that Alberta should have its own navy, or your uncle living in Taber decides he knows what bolshevism is and how to spell it, we'll be ready, and so will you," the Ministry spokesman said. 
At press time, the AEA had fired off another alert after Smith suggested making "Save a Horse (Ride a Cowboy)" the Alberta Provincial Anthem.