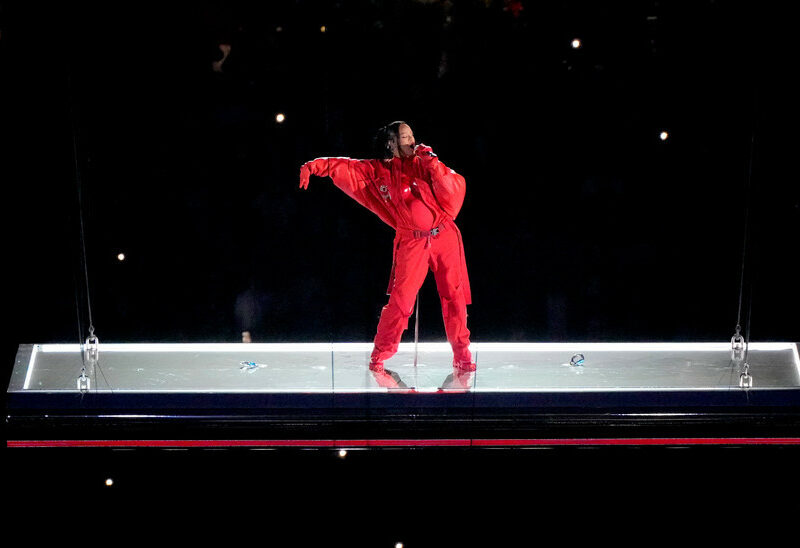 GLENDALE, AZ – It's been 12 hours since the end of yesterday's Superbowl and fans are still reeling over a nail-biting finish, with parties continuing into the early…… oh shit! Did you guys notice Rihanna is still up there?!
"Help! Can someone please get me down from here? I'm cold and hungry!" the world-renowned singer and performer screamed from her isolated, suspended platform far above the now abandoned State Farm Stadium in Glendale Arizona, "I probably also should have mentioned this yesterday but I'm not really good with heights!"
Sources now believe that, yes, goddamnit, Rihanna is still in fact up on her perch following yesterday's half-time show. Apparently shouts from the marooned entertainer following her show were drowned out by the cheers and general revelry of the game below, leaving Rihanna with little recourse other than to stand there, anchored to her stand.
"Yeah, I saw her up there after her show and I just figured it was all part of an extra-long performance and that they'd get her down eventually," said Janine Toledo, who attended the big game the night before, "I mean she didn't even do Disturbia so she kind of deserves it, no?"
Ground crews have been seen hastily assembling a makeshift pulley system to reach the singer – no Kyle! I said use the duct tape, not painter's tape – with hopes that she would be safely lowered to the ground sometime after the next 3-8 union mandated breaks for the labourers. Rihanna's agents have already filed a complaint with the NFL – we don't HAVE ladders that tall, Ted.
"I'm doing ok, you know this is all part of what you sign up for!" Rihanna shouted, "The worst part was when the fireworks went off from my neighbouring platforms after the game ended. I only then realized that this outfit is not at all fireproof."
This is not the first time a half-time performed was left in the lurch. Many insiders believe that the Weeknd is still wandering around his hall of mirrors beneath the Raymond James Stadium in Tampa, haunting all who attend with his wails to escape.
At press time, stadium owners frustrated with repeat failed attempts to recover the singer have begun considering asking her to just stay there and become a permanent fixture of the venue.