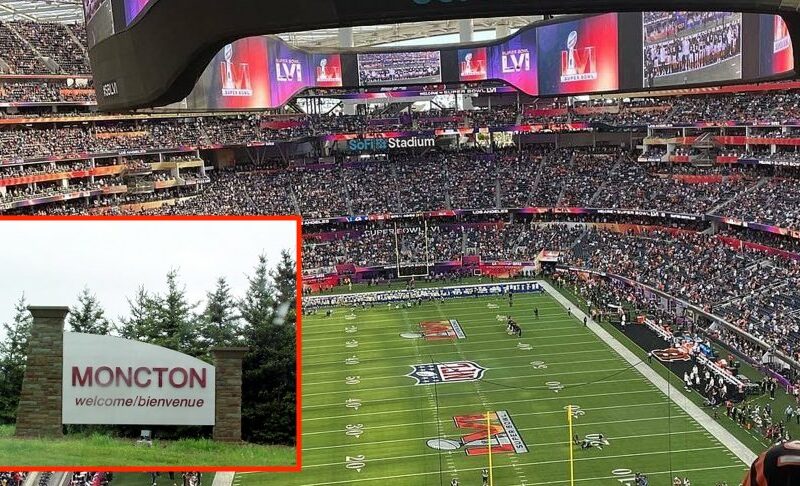 FREDERICTON – During tonight's Super Bowl broadcast viewers will see a new ad encouraging tourists to visit scenic New Brunswick, which the province financed by selling off the city of Moncton.
"We're viewing this ad as a marketing investment, which the good people of Moncton ultimately couldn't argue with," noted Mark Gauthier, a spokesperson for New Brunswick's Tourism, Heritage and Culture Minister. Gauthier added that, once the economics of purchasing an ad during Sunday's Super Bowl broadcast were explained to the province's most populous city, they soon erected the giant "For Sale" sign themselves.
Added Gauthier, "We look forward to this Super Bowl ad attracting tourists to visit our entire beautiful seaside province, with the exception of Moncton, which is now being turned into a 140 sq km outdoor paintball arena."
Plans to sell Moncton originally hinged on finding a buyer for the "Hub City". An offer was fielded for the Irving family to purchase the city and turn it into a storage space for their collection of faberge eggs. One anonymous offer was rejected once it was revealed to be from the government of Nova Scotia, attempting to expand their territory westward.
Once the sale of Moncton to Gary's Outdoor Paintball and ATV Range was finalized, New Brunswick officials hit another snag over where the Super Bowl ad would actually air.
"It turns out that we only made enough money to buy a commercial on the Canadian Super Bowl broadcast," notes Gauthier, revealing that the sale of Moncton just barely netted the $186,000 fee required for a prime time CTV Super Bowl spot.
"Can you imagine how much of New Brunswick we'd have had to sell off to afford an entire American Super Bowl commercial," asked an incredulous Gauthier.
Canadian Super Bowl viewers can watch the New Brunswick tourism spot airing after a commercial for CTV medical drama Transplant, and before another commercial for Transplant.