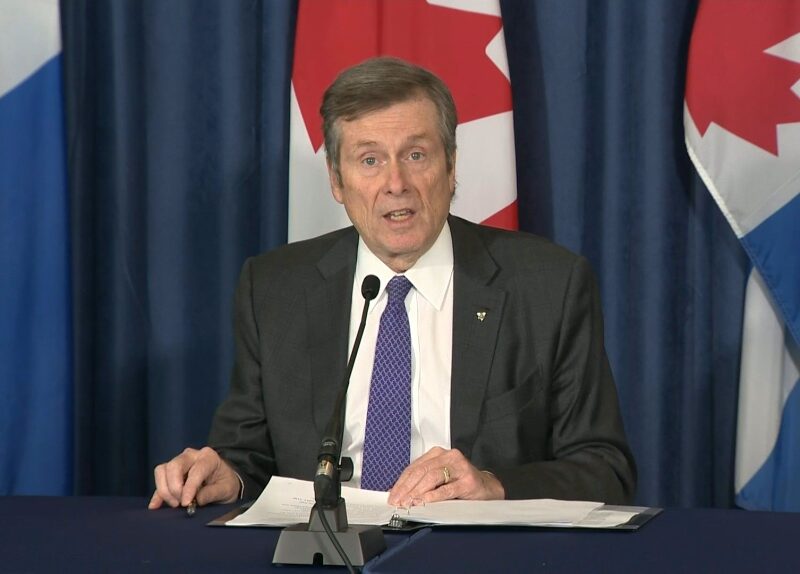 TORONTO — At a news conference today, Mayor John Tory proposed increasing the Toronto Police Service's budget by 48.3 million dollars in order to ensure that the people of his city would be kept safe from valuable social programs such as affordable housing, mental health support, and non-violent emergency services.
"My responsibility as mayor is to make Toronto a safer place to live, and we can only do that by making sure the police have the tools they need to combat dangers like social workers and safe injection sites," Tory announced, tossing the chief a giant bag with $$$ printed on the side. "Why invest in things that make life better for all when you can invest in guns, and those fun sticks police hit marginalised people with?"
"I can promise you that I will not rest until Toronto has been freed from the unholy terror of proven, effective strategies for reducing crime in ways that don't result in racial profiling and death. After all," he continued, "nobody at my yacht club has ever used a social service, so they must be bad."
Toronto's Chief of Police Myron Demkiw stated that he was fully on board with the budget increase.
"Oh boy, just you wait and see what I've got planned," he enthused. "This budget increase will allow Toronto police to be able to get even more heavily-armed officers to a person in extreme crisis, confront them in ways that dangerously escalate the situation, AND prevent mental health workers from intervening! It's like Christmas!"
"We're also going to train a fleet of attack dogs to go for the jugular of anyone who suggests that the phrase "Defund the Police" is actually a nuanced conversation topic and not just an inflammatory slogan designed to make people be mean to folks like me."
At press time, Tory had also just suggested that the city replace all of its public libraries with arenas where poor people could fight a cop for their chance to be put on an affordable housing waitlist.