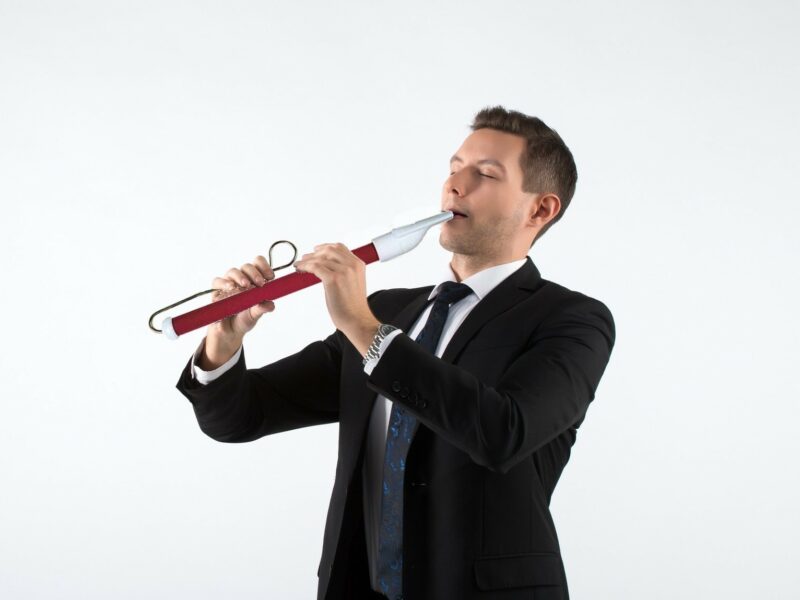 TORONTO — Martin Peck, the world's foremost slide-whistle virtuoso, expressed his frustration at only being hired to accompany prank videos.
"The slide-whistle is my instrument and my art," Peck said. "It can be used for much more than punctuating footage of grown men falling on their asses, penguin pile-ups and goats fainting."
Peck, who graduated with honours from Boston's Berklee College of Music, has spent the last eight years scraping together a living as a session musician underscoring videos featuring inadvertent physical comedy and busking in the stairwell of the Pape St. subway station.
"Busking is the fucking worst," Peck said. "If I play Bach's Fugue in G minor or 'Flight of the Bumblebee,' everyone averts their eyes like I'm insane. But if someone trips on the stairs and I improvise a rising glissando, people burst into applause and fill my instrument case with loonies. Which isn't that hard, since it's only big enough to hold a slide-whistle."
After a string of bookings accompanying a duo of student birthday clowns who perform on a Slip n' Slide, Peck called a press conference to drum up interest in his ambition to rehabilitate the image of one of the world's most underestimated instruments.
"When Israel Kamakawiwo'ole covered 'Over the Rainbow,' overnight he turned the ukulele from the guitar's trashy little cousin into the go-to instrument for twee girls doing cute covers. I see no reason why I couldn't work that kind of magic playing Rachmaninoff's Rhapsody on a Theme by Paganini on the slide-whistle. Except all big and majestic, not twee. Even though slide-whistles are really good at making the sound 'twee.'"
At press time, a despondent Peck is considering accepting the one job he swore he'd never do: making the descending glissando when a Wheel of Fortune contestant lands on "bankrupt."