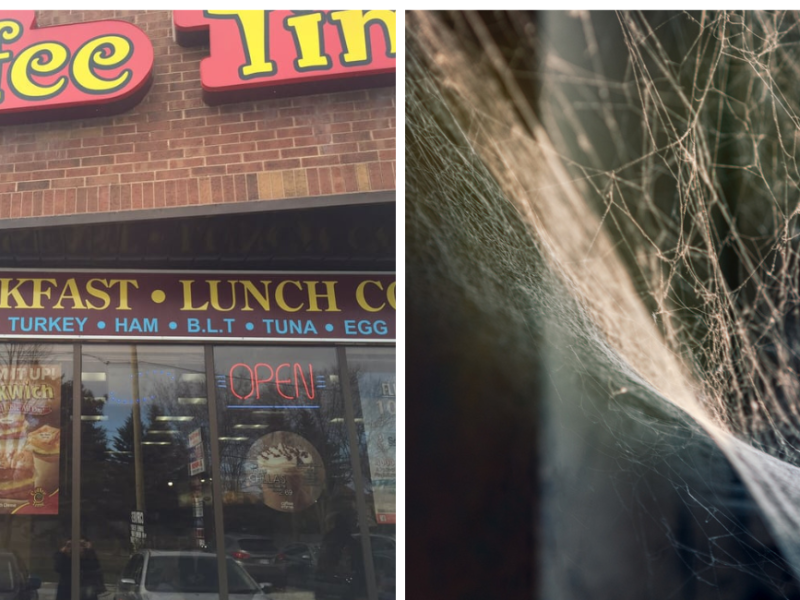 Owen Sound, ON – Management of a local Coffee Time has asked that all staff pretend that the cobwebs currently coating stationary objects were put there for the Halloween season, as opposed to a regular feature of the chain.
"Yeah, It really helps if we tell ourselves we made our chairs, tills, and coffee maker look like this purposely. Better than admitting more spiders come into the store than people," said assistant manager James Hanover, decorating the tables by drying little Jack O'Lantern faces in the dust.
"This way, we can imagine the place is empty because we've made it too scary and not because of the weird smell coming out of the bathrooms."
The restaurant's employees are willing to play along but some, like Lily O'Connor, have a few doubts about whether the ruse will be successful. "I don't think why anyone would buy that we started decorating a place that has three people in at a time. Plus, if we really want to decorate for Halloween, why don't we use the dead body that's been behind the counter for the last three years? No one's come to claim it yet so we might as well use it."
Hanover thinks he may find some much-needed savings for his franchise by letting nature decorate the place. "I don't know why I didn't think of this sooner. I can just let the heating go out at Christmas to save on fake snow, or pick the clovers growing on the walls for St. Patrick's day table pieces. Then in a few years, the egg sacs in the spiderwebs will be big enough to paint for Easter."
In related news, the staff at Coffee Time can confirm that the rotting pumpkin on the counter is not a decoration, but an effort to recreate Starbucks' pumpkin spice lattes that they haven't given up on yet.