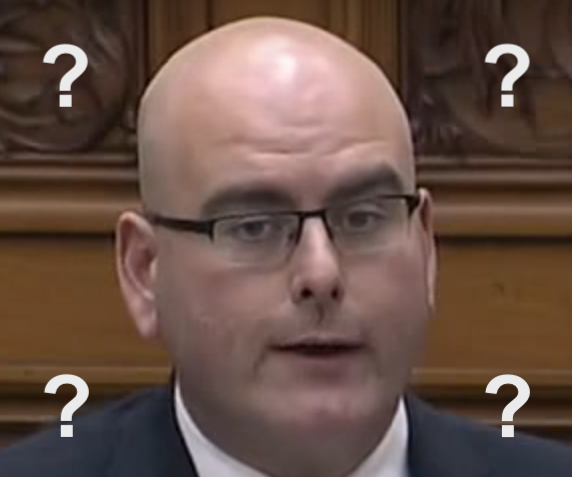 Chatham,ONT – At a campaign rally today, Steven Del Duca paused during his stump speech and appeared to take 10-12 seconds to remember the name of the current Ontario Liberal Party leader. This concerned many as the current leader is in fact, Steven Del Duca.
"Doug Ford's Ontario has become a difficult place to live," said Mr Del Duca. "And who's going to improve things? Andrea Horwath? Or… the other guy…you know… the bald one? I think he has glasses…" he continued, adjusting his glasses.
Mr. Del Duca was eager to put the gaffe behind him when speaking with reporters. "It's a long campaign. And it doesn't matter how immediately forgettable I might be, it matters how many people agree with my ideas." 
The party's spokesperson, Colin Robinson, echoed that sentiment. "This is a very serious election, and we need a Premier who will deliver solutions, and that's why Ontarians can trust… um… the guy we're talking about… he's got that face? Picture someone with no defining facial features, that's who I mean, the guy I work for." 
Mr. Robinson then began pointing in the general direction of Mr. Del Duca and several dozen others, yelling "Him! That guy right there, he's the guy! Isn't he?"
Mr. Del Duca's struggles to make a personal impression have not deterred Liberal supporters from trying. A fan at the rally held up a sign saying, "We Love Martin!" though "Martin!" had been crossed out and replaced with "Tim!", which had itself been crossed out and replaced with "Stephen!" which is not the correct spelling of Steven.
"It's hard to get to know the real man on the campaign trail," said Mr. Del Duca's wife, Utilia Amaral. "But I know that once he's elected, the people of Ontario will warm to… ah, you know… it's on the tip of my tongue… my husband… good old whatshisname."
Mr. Del Duca was not available for further questions as he was recording an interview with a local radio station, who introduced him as Stephane Dion.