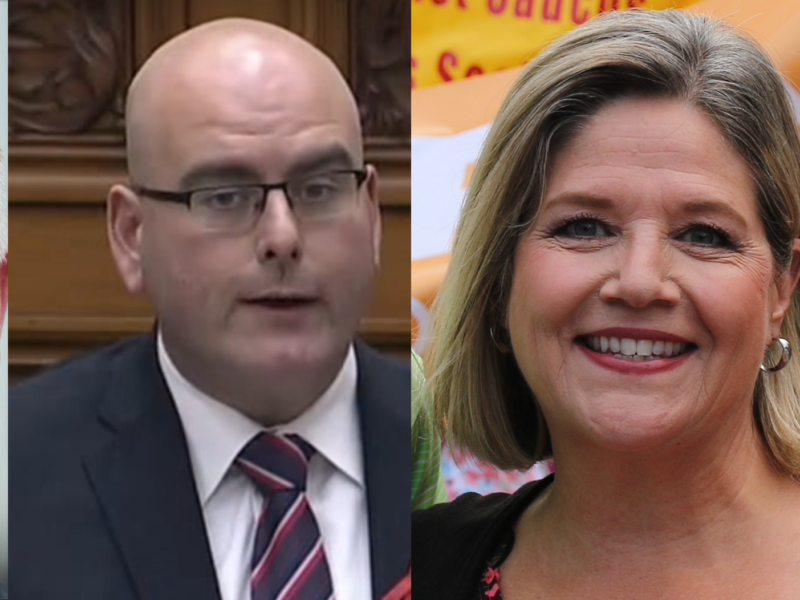 TORONTO – In the recent Ontario Leaders Debate there seemed to be little the hopefuls for premier agreed upon, but one thing on which all four caucasian candidates did concur was that Ontario's greatest strength is diversity.
"You know folks, I can't say enough what a source of strength it is for Ontario to have such a diverse group of folks," said current Progressive Conservative Premier and mayonnaise enthusiast Doug Ford.
Reaching out from across the aisle, Green Party Candidate and Kansas-born cracker Mike Schreiner agreed, "We have such an incredible wealth of diversity here in Ontario, and with that diversity comes a huge source of potential talent to fill big important jobs for the province".
"The incredible multitude of talent within the diverse population of Ontario is our single largest asset," agreed half-mangiacake Steven Del Duca, who routinely refers to himself as a "first-generation Canadian" to make himself seem less white, but conveniently glosses over the fact that his mother immigrated from Scotland, where whiteness was invented.
The NDP's Andrea Horwath agreed with her un-melanated Queen's Park colleagues. "Harnessing the diversity of this province is going to be key to facing the challenges on the road ahead," said Horwath, who looks permanently poised to ask for a manager at any given moment.
Looking at the overwhelmingly pale field of candidates, a spokesperson for Elections Ontario said it was "unfair" to characterize the current field of hopefuls for Ontario's next premier as being unrepresentative of the diversity of the province.
"Diversity is a core value of our province, but there's more than one type of diversity," said Elections Ontario spokesperson Nadia Persad. "Mike Schreiner is a dual Canadian-American citizen, Andrea Horwath is a woman, and Steven Del Duca is Italian sort of, so some of that has to count for something, right?"
Queen's Sociology Professor Emily Jenkins had a different take, explaining that while Ontario's biggest strength is indeed diversity, that diversity is required elsewhere.
"Ontario values our multiculturalism greatly, but the diversity of talent and lived experience that exists within our workforce is desperately needed for vital tasks like running tech startups, innovating digital advertising businesses, venture capital consulting, and being Drake. More mundane callings like keeping our hospitals from collapsing, overhauling the education system and solving the housing crisis⁠—that can all be left to a small group of white people over 50."
Following the leaders debate, all hopefuls for premier made campaign stops in Northern Ontario, where they told the audience that Ontario's greatest strength was "real, honest, salt-of-the-earth Ontarians… if you know what I mean."⁠