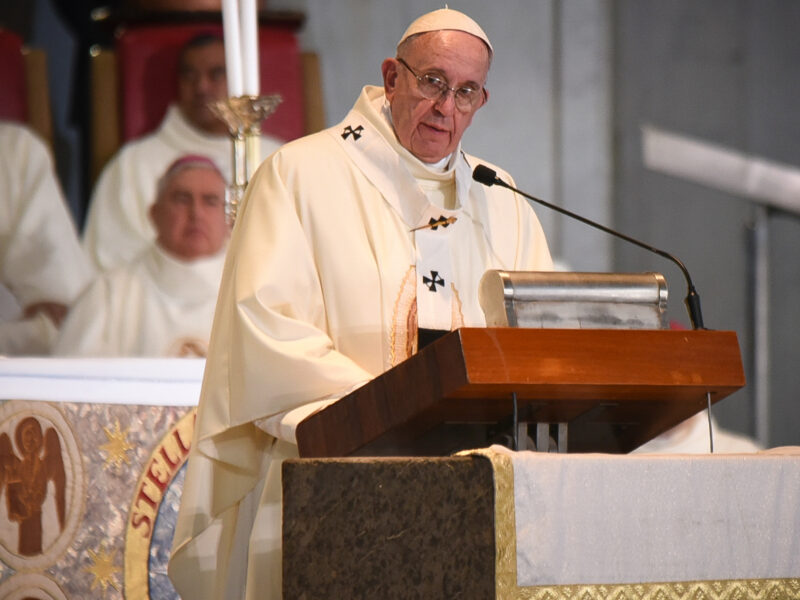 VATICAN CITY – Pope Francis has described people's decisions to have pets instead of children as "selfish", during a recent general audience in the opulent cathedral-like palace of which he is the sovereign ruler.
"Today we see a form of selfishness. We see that some people do not want to have a child," he told the audience from inside his own personal city state with holdings valued at anywhere from $10 to $15 billion. His Holiness continued to criticize the childless couples of the world from behind his bejeweled golden pulpit, flanked by armed security guards.
"Sometimes they have one, and that's it, but they have dogs and cats that take the place of children," added the elderly man who has no children, but who does control multi-billion dollar investments in banking, insurance, chemicals, steel, construction, and real estate.
"This may make people laugh, but it is a reality," added God's chosen representative on Earth who is rarely known for laughing, but is consistently known for appreciating the Vatican's priceless art collection.
The Supreme Pontiff directed his remarks on the selfishness of childlessness to the 1.3 billion Catholics worldwide, many of whom live in the most impoverished parts of the globe.
"(Not having children) is a denial of fatherhood and motherhood and diminishes us, takes away our humanity", added the unfathomably wealthy cleric who is regularly chauffeured in a custom-built bulletproof car.
Reached for comment, many Catholics around the world reacted to the Bishop of Rome's harsh words. "It would be difficult to afford children on just my salary," said Rachel Smithward of Kamloops, BC, "but when I asked the Vatican to send me a small amount of the gold that Pope Francis sleeps on, I never heard back."
Jack Marley of Dublin responded, "Ah yes, that's what us Catholics are mainly known for: not having enough kids."
Later, il Pontifex maximus was reportedly spotted preparing a sermon about the importance of charity from his blood diamond encrusted writing desk.
At press time Vatican representatives expressed confidence that the world's number one authority on the ethical treatment of children remains the Catholic Church.