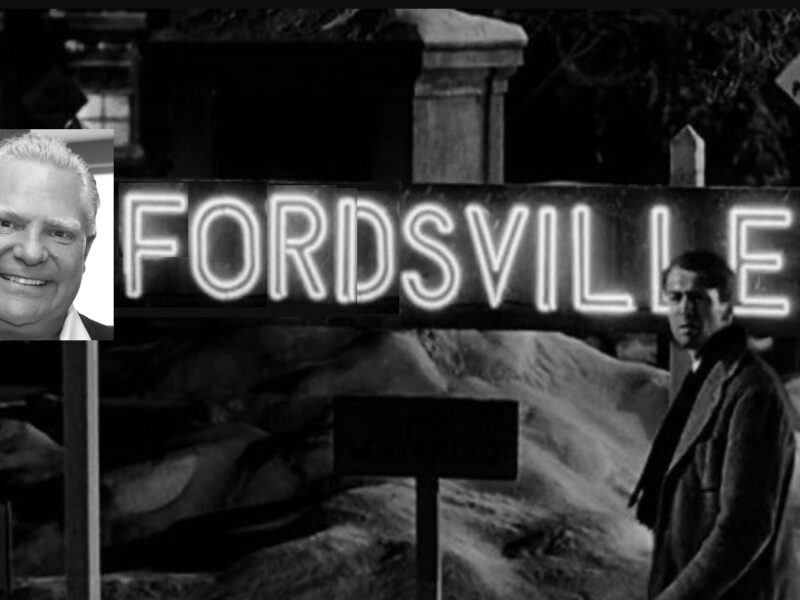 QUEEN'S PARK – Reports indicate that dire circumstances throughout Doug Ford's Ontario are actually due to it being a fantastical alternate reality, created by a Christmas angel in order to teach a desperate local man about the worth of his own life.
Late last evening, 38-year-old Greg Barley considered jumping from the Bloor Viaduct Bridge in order to leave life insurance money to his family, before being approached by Clancy, Barley's guardian angel sent from heaven. In order to teach Barley about the positive effect he's had on his community, Clancy magically whisked the downtrodden man to an alternate Ontario where he was never born.
Sources have revealed this nightmarish parallel reality to be Doug Ford's Ontario.
"W-w-w-why is everyone scrambling over each other to find booster appointments?" asked the perplexed Barley, shocked to find that this hellish version of Ontario did not have a centralized easy-to-use government booking system. "People are lining up for hours for rapid tests and shots, just to be turned away! What the hell kind of madness is this?"
Witnesses on the scene have reported that Barley, previously a pillar of his own community, was shocked to discover a harsher, meaner version of Ontario that had been corrupted by the machinations of a heartless, bitter millionaire.
"Are you telling me this Ford fella actually cut public health funding during a pandemic?" Barley added, shocked. "What kind of scurvy spider would do such a thing?"
In addition to the substandard COVID response, eyewitnesses report that Barley has been similarly horrified by the Ford timeline's rampant housing inequality. "Back where I come from, people can afford to buy a decent home in Barley Park," muttered the beleaguered man, reading through listings for $1000 sq/ft condos built by Ford donors. "Plus, we've had $10 a day daycare for years! What's he waiting for?"
As Greg Barley ran down the streets, horrified at Ford's proposals for waterfront casinos and "hot jazz establishments", onlookers remarked at his cross-dimensional existential crisis.
"It never really occurred to me that Doug Ford's Ontario was 'the bad timeline', but yeah, that tracks," mused one weary holiday shopper.
Barley's spirits reportedly dropped to their lowest point when his angel revealed that his wife, Marion, had become a librarian, only to have her job slashed by cuts from the Ontario government.
"I want to live again," Barley yelled to the heavens. "I want to live again, back in my own universe where Doug Ford is just some angry crank with a sticker factory!"
In a related story, three Christmas ghosts who arrived at Ford's home proved unable to show him the error of his ways after discovering the Premier had previously fled to his Muskoka cottage to avoid work.