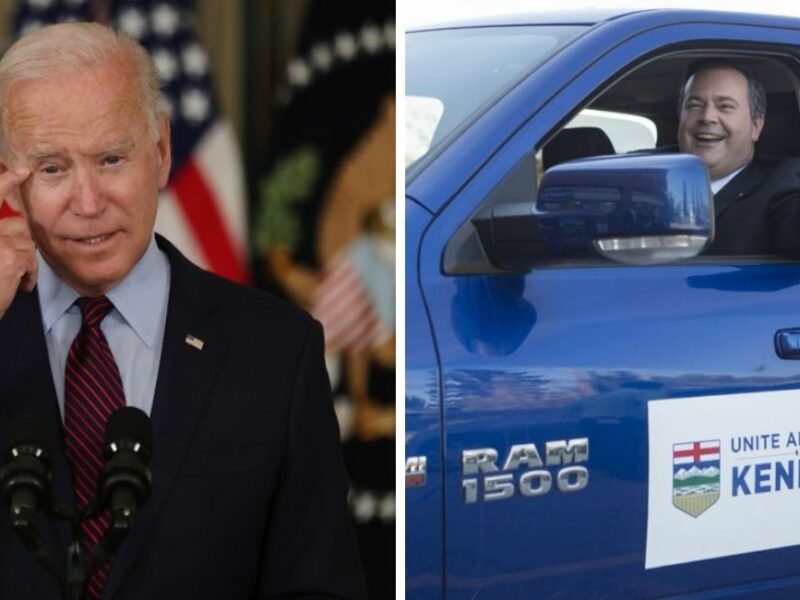 WASHINGTON D.C. – Months after Canada opened our border to Americans, President Joe Biden is finally allowing Canadians to enter the U.S. by land, as long as they can show proof they have received full vaccination against COVID 19 and do not reside in the Wild Rose Province.
"For too long our borders have been closed to our neighbours to the North," said Biden at a Press Conference. "But now all Canadians who are vaccinated and do not live in a province whose response to COVID has been directed by Jason Kenney may come visit us once again."
"But be warned, anyone who shows a fake vaccine receipt OR tries to write over their Calgary residence on their passport with a Vancouver one will face stiff penalties."
The announcement comes as all Canadian provinces that aren't terrified of the anti-vax protestors in the streets and their own government have managed to keep COVID cases low. Canadian officials were initially confused when the U.S. decided to allow Saskatchewan residents to enter given cases are quite high there as well, before they remembered that no one in the U.S. knows Saskatchewan exists.
Jason Kenney reacted strongly to his province's exclusion.
"This is an outrage. Cases in Alberta may be a bit exponentially higher than anywhere else in Canada. But they're still lower than border states like North Dakota. Speaking of we strongly encourage people from North Dakota to come visit and enjoy our mask-free province! Eat inside. Cough in Restaurant servers mouths! Live it up."
The move comes just in time for Holiday Shopping season. So get ready upstate New York! Because every aunt and uncle in Ontario is coming to your Banana Republic outlet stores.