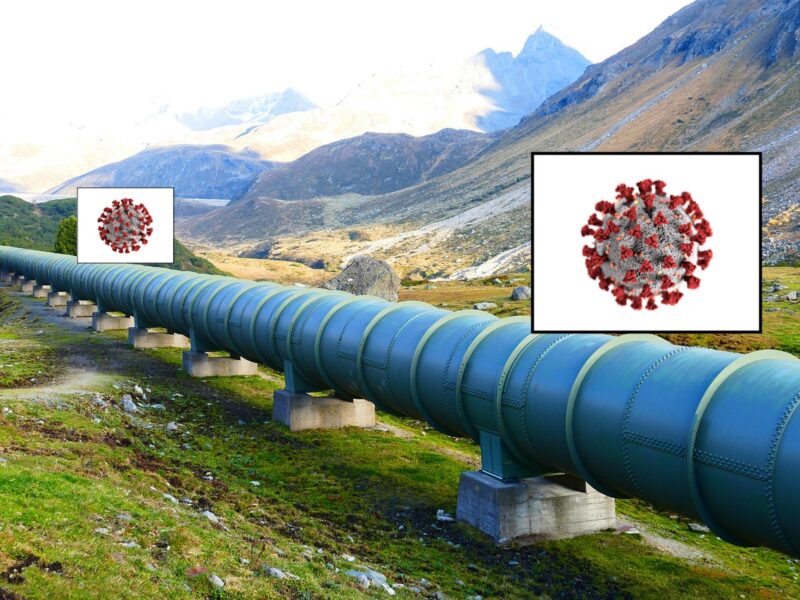 EDMONTON – After announcing the removal of most COVID protocols despite rising case numbers, Alberta has publicly called on Ottawa to build them a pipeline expressly for exporting the virus to the rest of Canada.
"Alberta is a resource-extraction and export province, be it oil or a highly contagious and preventable respiratory illness," explained Premier Alberta Jason Kenny as he oversaw a mass burning of PPE masks.
"By building a dedicated pipeline for us to ship our COVID droplets to the rest of the country, Justin Trudeau could finally prove that he doesn't consider Albertans to be second class citizens," Kenney suggested.
"Though we would still never vote for him," the premier added, before tossing Alberta's quarantine protocol documents onto the bonfire.
The proposed trans-coastal COVID pipeline will stretch from Vancouver to "those smug Atlantic provinces with their lower COVID counts lower who wouldn't let us visit last year". Alberta's emerging COVID sector will harness regular citizens to cough directly into the pipeline, before the droplets are transmitted across the nation. Said droplets will be placed into hermetically sealed tubes, to ensure their virality remains intact by the time they arrive.
Engineers for the project assure Canadians the pipeline will cost $24 billion dollars, and be designed to route entirely through as many protected Indigenous lands as possible.
The Alberta Legislature has already announced heavy tax incentives for the COVID industry, despite nobody yet being able to explain how it will generate any profits.
The pipeline demand has thus far been met with wide acclaim in Alberta. "Now that people won't be required to isolate or contact trace, this COVID isn't going to spread itself to the rest of Canada," explained Wayne Gibbons of Calgary.
"It is our choice whether or not we want oppressive government rules to 'protect' us from COVID, just like it's our choice whether we want to be an incubator that infects the rest of the country by not giving them a choice," added Chad Long of Fort McMurray.
"I'm sick and tired of the rest of Canada thinking they're too good to come to Alberta and catch our Delta Variants. I'm also very sick and tired," emphasized Mary Tisdale of Airdrie, before coughing into a nearby school bus.
When asked why a pipeline was even necessary when Albertans could just travel to the other provinces themselves, Albertans expressed disgust at the prospect of having to ever step foot in Toronto.