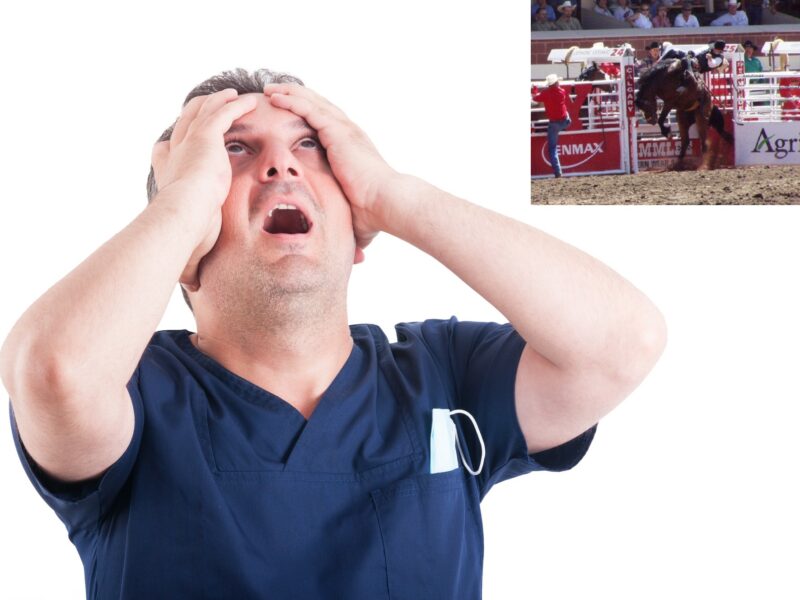 CALGARY – Alberta's doctors, restaurant employees, and other frontline workers will receive free Stampede tickets this year, punishing them for their crucial role in combating COVID.
"First the government tried to cut my pay mid-pandemic, and now I have to go drop seventeen bucks a pop on lukewarm Budweisers," said Marlene Shaffer, a nurse. "And don't suggest not drinking, because how else am I supposed to survive all that fucking country music?"
"I thought the COVID ward was hellish, but hearing 'Save a Horse (Ride a Cowboy)' 47 times in a day will make me nostalgic for it," said Calgary doctor Yusef Croft. "I can't wait to see someone whose life I saved devour four pounds of butter stuffed pork lard before getting an STD."
Several grocery store clerks were horrified to learn that they might be expected to line dance. "I was just planning to watch a few horses die before getting sexually harassed by some drunks, but now I have to flail around to 'Cadillac Ranch' too? Fuck this," said Natalie Stein.
The Stampede also promises to inflict overpriced merchandise, rigged carnival games, ninety minute waits for mediocre pancakes, and backbreaking midways rides run by tweakers on the province's essential workers.
"I was called a 'hero' for months, and my reward is to watch overpaid oil executives pretend to be cowboys as they puke in the general direction of a trash can," said an anonymous teacher. "Oh look, they got vomit on their 'It ain't Cheatin' if yer Stampedin' shirts."
In a positive development, Alberta's workers were at least spared tickets to the cacophonous, God-forsaken cultural atrocity that is Nashville North.