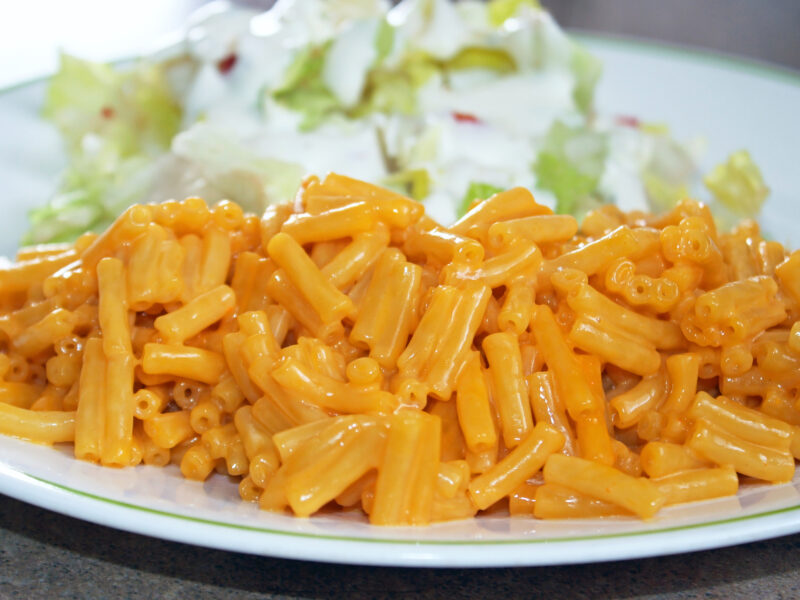 STEINBACH, MB  – Canadians across the country are in awe as Manitoban Amelia Kristensen shared an image of a perfectly opened Kraft Dinner package online with a cleanly punched in tab. Congratulations have poured in from across the country with parties and parades being planned in several cities.
"It was unbelievable," said Kristensen. "I pushed in the tab and it gave way easily. I could grip the top of the box and simply tear it away. The whole thing came off in one go. I felt like King Arthur pulling the sword from the stone. I showed my girlfriend and once she got over her shock she insisted on taking a photo and posting it to social media right away. The response from across the country has been incredible."
The product, sold in Canada and the US since 1937, is renowned for causing endless fits of fury as customers try to open the box by its clearly labeled "Press In / Tear Back Top". For over eighty years, this has never been successfully accomplished. Until now. 
Long-time KD aficionado, or "Noodle-Head" as such fans like to be known, Penn Glancyr is jubilant.
"I've been waiting for this day for years. I just wasn't sure it was going to happen in my lifetime. I can't tell you how many times I've picked up that blue and gold box hoping that it would be me. But the top of the box always ends up looking like a squirrel ravaged it and I have to pick out cardboard scraps from the noodles."
Kristensen later added, "I think this was the first time I tried opening a box while sober, so maybe that was a factor."
The company behind Kraft Dinner issued a statement in response:
"The Kraft Heinz Company wishes to congratulate Ms. Kristensen on her achievement. We want everyone to know that our packaging department will be reviewing our methods to ensure this never happens again. The unperforated 'Press In' tab is part of the full Kraft Dinner experience. Our goal has always been to mangle your thumbs, break your nails and cause you to swear like a pirate in a wasp's nest before every single delicious box of KD. Without it, are you really eating Kraft Dinner?"
Prime Minister Justin Trudeau says he is in consultation with Canada Post and the Canadian Mint to commemorate the occasion with a series of stamps and coins. Trudeau famously cut off both of his pinkies trying to open a box of Kraft Dinner with a chef's knife in 2002 before having them re-attached. He had follow-up surgery in 2003 to re-attach them to the correct hands.