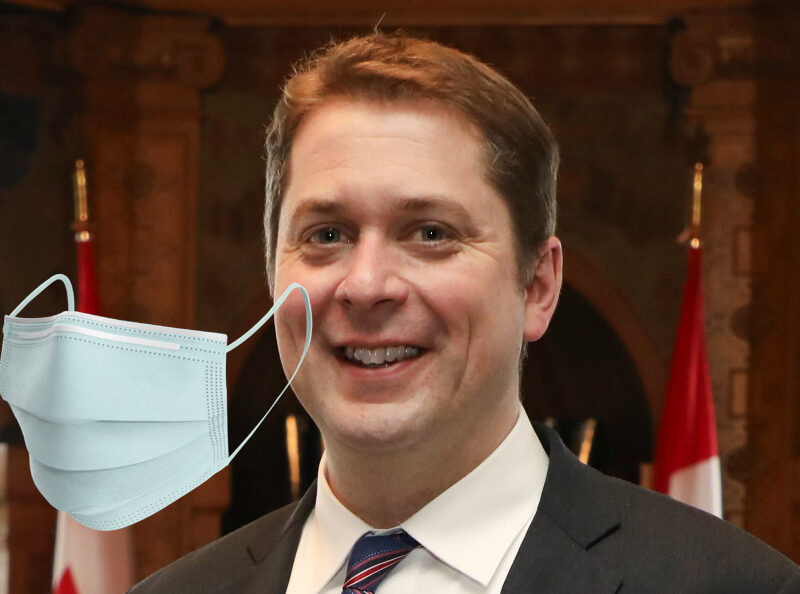 TORONTO – A shocked and frightened face mask has escaped Conservative Leader Andrew Scheer's face after the traumatic experience of having to listen to what the opposition leader says.
The disposable face mask in question had been sitting on Mr. Scheer's face at Pearson International Airport when Scheer received a phone call from what appeared to be a Rogers telemarketer. Within seconds Mr. Scheer had lowered the mask and was complaining loudly about Trudeau, questioned climate change, and made his views on gun control abundantly clear to the entire airport lounge.
"More guns, why can't we have more guns?!" railed Scheer to the telemarketer, as the mask grew increasingly uncomfortable. "Guns don't kill people – The Trudeau Carbon Tax does! And why is he so pretty?"
The Blue 3M Mask reportedly did its best to muffle and gag Scheer's voice, but once the conservative leader began explaining his views on same-sex marriage to the Rogers representative, the face mask had had enough. Unable to gag Scheer, the three-ply PPE ripped off its own straps, hurled itself into a passing garbage trolley and lit itself on fire.
Observers in the airport lounge reportedly heard the mask scream "IS HE THE BEST WE CAN DO?!" as it erupted into unholy flames. In solidarity, a nearby Conservative face mask sitting on Manitoba Premier Brian Pallister's lap did the same.
At press time, Mr. Scheer is still on the phone with Steve from Rogers explaining why he does and doesn't not quite support the ban on Conversion Therapy.