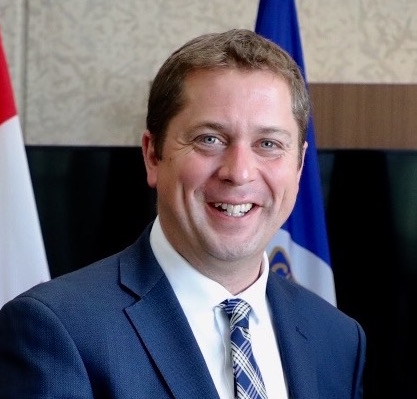 OTTAWA – Andrew Scheer, who announced he was stepping down from his position as Conservative leader seven months ago, has called on the Liberals to remove Justin Trudeau as their leader and is willing to give them the benefit of his wisdom to ensure Trudeau doesn't manage to cling onto power like he has.
"Do not, and I can't stress this enough, do not let him announce he'll step down 'as soon as a successor is chosen,'" Scheer counselled. "That's just code for 'I'm gonna stick around as long as is humanly possible while conveniently removing any incentive I would've had to answer for the actions that led to everyone demanding that I leave.'"
"You gotta make him leave when he says he's leaving, otherwise, like me, he's not going anywhere."
Scheer, who was pressured to step down after his failure to turn the SNC-Lavalin and Trudeau blackface scandals into an electoral win for the Conservatives, was also mired in his own scandal when it came out that the Conservatives were paying for his children's private school education and is strongly advising the Liberals to do a more thorough job of removing Trudeau than the Conservatives have done removing him.
"If they allow him to continue, if they don't demand that he resign, then they are telling Canadians that they are comfortable with his corruption," Scheer explained. "Like how, by not making me leave and allowing me to continue to lead the party indefinitely, the Conservatives have told Canadians they are comfortable with me using a secret party slush fund to pay for my children to get a more expensive education than other Canadian children have access to, and that they are okay with how terribly we did during the last election."
"Trudeau is already shrugging off yet another scandal, just think of how little he'll care to address issues of leadership once he's 'stepped down' but remains in charge."
"They also have the future of their party to consider," Scheer said. "Consider how a Conservative leader who wasn't a lame duck could be turning the current Liberal scandals into hay for the next election, while I, the only Conservative we know for a fact won't be the next leader of the party, remain in the spotlight instead. The Liberals should definitely try to avoid finding themselves in this kind of scenario."
"And, whatever else you do, do not let him continue to make inane social media posts that only confirm what an idiot he is."
Scheer concluded his advice to the Liberals by telling them that they should consider going outside the party to replace Trudeau, perhaps looking for someone with party leadership experience and who will at some point in the not-too-distant future need a new job once he is finally pried, kicking and screaming, out of his current position.