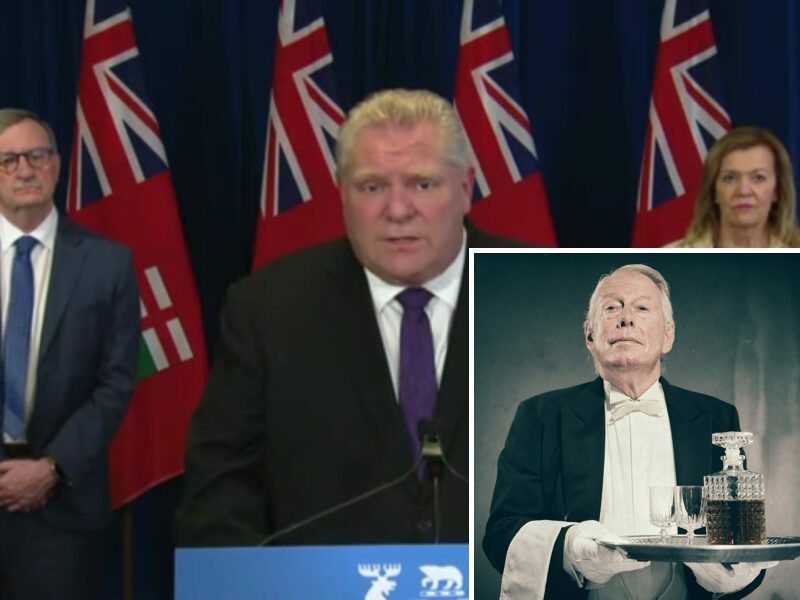 QUEEN'S PARK — Today Premier Ford announced his government will begin developing guidelines for when Ontarians can visit their families again, just as soon as they finish establishing rules for butlers, housekeepers, cooks, maids, scullery maids, and sommeliers.
"We understand that Ontarians have been waiting for months in lockdown, to be able to see their families and loved ones again," explained Premier Ford, "and we promise to get to that, eventually. Right now my government is focusing on what really matters – letting those same regular Ontarians finally re-hire their beloved butlers.
"For the people!" added Ford, hastily.
Premier Ford explained further, "Right now my government is focused on getting Reginald back polishing your shoes, making snippy remarks about your wife's friends, and saying 'good evening' in that awesome, butler way."
He also assured Ontarians their sommeliers would soon be able to return to work, "and finally explain what kind of wine you've been drinking all this time in quarantine."
The premier went on to emphasize how his party is committed to getting Ontario "Open For Business" again, particularly if that business covers butlers, cooks, headwaiters, flunkies, valets, servants, lackeys, flatterers, aides, and footmen. Ford assured Ontarians he knew how hard it has been, doing without their artisanal caddies, full-time game wardens, or human furniture servants.
"Some Ontarians haven't even been able to see their dog's reiki practitioners in weeks. Weeks!" Ford added, wiping away a tear.
While re-welcoming their macrobiotic pastry chefs, Ford urged Ontarians to follow previously laid out guidelines for visiting loved ones during lockdown, namely that they cannot meet in gatherings of more than 5 people, which cannot be inside their homes, and as well not in public spaces, but must be only comprised of people in your house's "social bubble" as well as possibly other "social bubbles", plus always staying at a 6 foot distance, but also not in groups of up to 5 people.
Speaking from his home office, Toronto mayor John Tory enthusiastically welcomed the premier's guidelines on personal support staff. "I've been working from my luxury penthouse through this entire ordeal, and to be honest I have no idea how I've made it this long without Ferdinand, my top hat polisher. To say nothing of Raphael, my live-in jai alai coach!"
Tory concluded, "Congratulations Ontarians, on re-welcoming these cherished members of, I assume, all your households as well!"
As the video press conference concluded, Premier Ford wished Ontarians "good luck" before ordering his driver to pick up his daughters' families, and drive them all up to the cottage together.