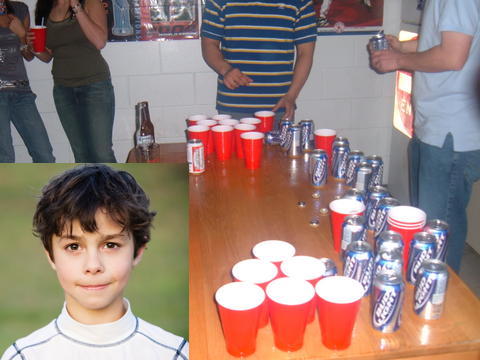 LONDON, ON – Gabriel Thompson, the 9 year-old child genius who made waves by being admitted into Major Biology and Mathematics program at Western, is reportedly kicking ass at a game of beer pong.
"We knew the kid was smart, but damn, can he drink," said Jimmy Wendell, who lives at the frat house where Thompson began his remarkable win streak. "We didn't want to let him play, but he insisted he could anything can do and threatened to tell our den mother on us."
Eyewitnesses are uncertain as to how Thompson is doing so well, despite claiming to have never played before. Some attribute his skill to his proficiency at calculating trajectory, his use of the double bounce rule to make his opponents drink twice, or the fact that the balls are similar to the ones he recently used to bounce in his parents garage.
As expected, Thompson has made an impression on faculty as well. "I can say without question that Gabriel has a bright future ahead of him," claimed Vice-Dean Anna DeSantos. "With his astounding intelligence, work ethic, and disregard for the legal drinking age, it wouldn't surprise me if he made the Dean's List."
At press time, Thompson's early admittance may be in jeopardy after allegations he led an aggressive hazing ritual against this years' freshman class.