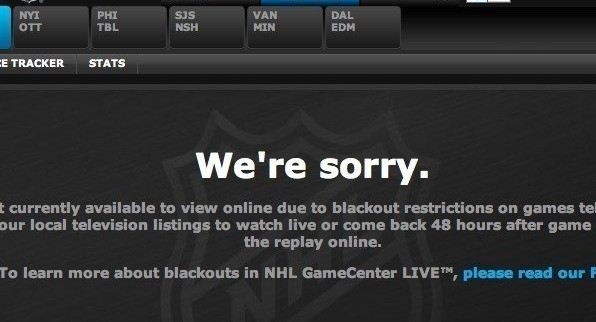 TORONTO – With a new season of NHL underway, media conglomerate Rogers Communications and the League have reminded everyone to purchase an app that will showcase exciting regional blackouts for over half the games they want to see.
The app guarantees another exciting year of being locked out of most of mesmerizing goals, unbelievable saves, and devastating hits.
Plus, the app will once again features all of the games you don't want to see every night as well as every game on Saturday that's already free on CBC.
"You're either going to sit there and stare at a screen apologizing about the blackout or you can watch Tampa play LA and pretend the purchase of the app was worth the $140," said a Rogers executive to hockey fans. "Don't like the Dallas Stars or the Phoenix Coyotes? Too bad. You're a fan now because that's what's on."
NHL Commissioner Gary Bettman theorized that seeing your favourite players like Carey Price, Auston Matthews, or Connor McDavid less often has its benefits.
"Absence makes the heart grow fonder," said Bettman. "And makes the NHL profits grow larger."
Rogers and the NHL added that there is no other way consumers can watch a game for free on the internet so there's not point in looking.