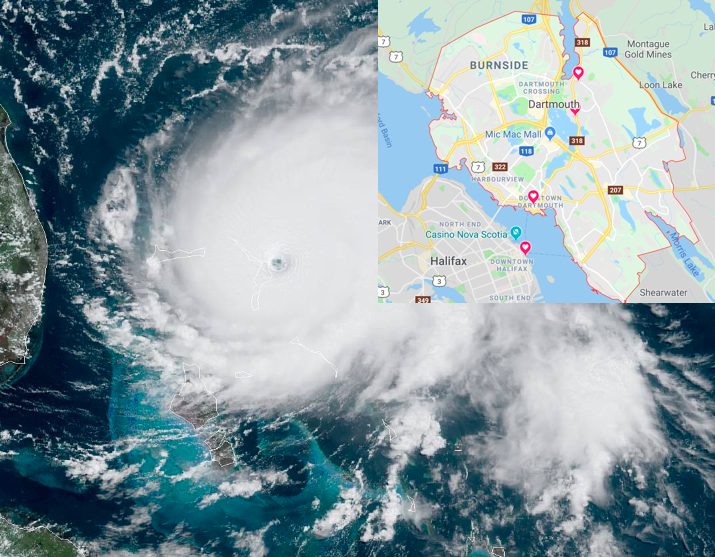 HALIFAX — In the wake of Hurricane Dorian, a category 2 storm that battered the Maritimes, locals have yet to notice that the entire city of Dartmouth has been washed out to sea.
Officials report that the entire "City Of Lakes", as it is known, was swept out into the Atlantic Ocean sometime during the storm over Saturday night. 
"The whole shebang's gone," explained Alvie MacMaster, spokesperson for the Nova Scotia Emergency Management Office. "The MicMac Mall, the Irving refinery, even a good chunk of both bridges. But I suspect it'll be awhile before anyone else clues in."
Across the harbour in Halifax, as storm-drenched citizens cleared debris from the weekend's hurricane, many had not yet seemed to notice the disappearance of an entire neighbouring city. 
"Huh, I feel like something's different across the water," stated local Haligonian Sarah Greaves. "But I don't really need to go to any outlet malls, so there's no reason to drive all the way over there to investigate."
While scientists report no other missing cities or even towns in the wake of Hurricane Dorian, many have noted that coastal communities should try lashing themselves to a nearby tree or inland structure, at least until the end of this year's storm season.
"That climate change is no joke, and they should really tie up Cavendish good and tight," added MacMaster.
At press time, no one has heard from the erstwhile city of Dartmouth or its roughly 65,000 residents, though some have reported receiving distress calls for "storm chips and Brother's pepperoni" coming from near the coast of Portugal.