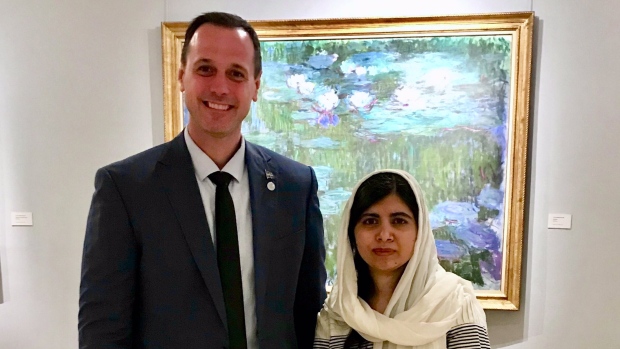 PARIS – Nobel Peace prize winner and advocate for access to education for women, Malala Yousafzai, escaped the clutches of religious oppressors in her native Pakistan seven years ago only to be trapped in a photo op with a secular oppressor.
"I was thrilled to meet Malala," said Jean-François Roberge, the Minister of Education for Québec. "We had a brief discussion of access to education for women. I told her that we are proud that almost every girl is welcome at school in Québec. Then, she asked me if she could speak in front of a class and I said: 'Non, si tu n'enlèves pas ce maudite voile!' It was a delightful chat."
"I explained that in Québec we understand that religion is a fantasy," said Roberge, "like believing in unicorns or a major league baseball team returning to Montréal. Citizens must be protected from it because they are feeble-minded and driven by fear. They elected us, didn't they?"
While the cruel religious fanatics of the Taliban banned girls from attending school in an attempt to control society, in a similar attempt at social control the secular fanatics of the CAQ have banned some women from teaching at schools.
When reached for comment, Malala said: "At least the Taliban didn't try to pretend that they were oppressing me for my own good."
At press time, Roberge had doubled down on his convictions by tweeting that he wished he could have had the honour of meeting Viola Desmond and telling her where to sit in the theatre.