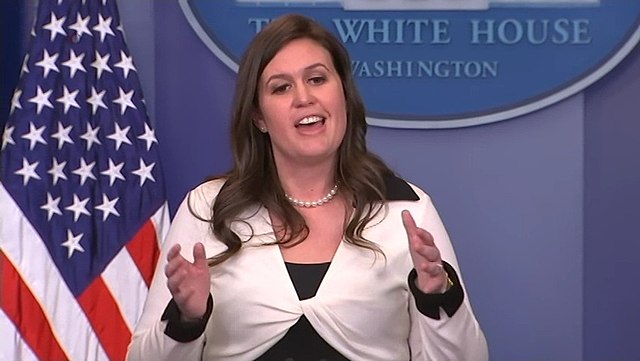 WASHINGTON, DC – U.S. President Donald Trump has announced that Sarah Huckabee Sanders will be leaving her post as White House press secretary at the end of June, following nearly two years with the administration.
"Quite frankly, I've run out of things to lie about," a teary-eyed Sanders told reporters at Arlington National Cemetery, where the president was dedicating memorials to victims of the Bowling Green Massacre, the 2018 Mexican Invasion, and post-natal abortions. "But my kids are still at that young age where they can be convinced of the stupidest thing with no evidence at all, so my daily routine won't really change all that much."
Though her dishonesty has been overshadowed by statements such as citing the bible to defend putting immigrant toddlers in cages, Sanders is highly respected among her peers for her extraordinary ability to keep a straight face while lying through her teeth, a skill she addressed with modesty.
"I've tried to carry the mantle laid down by people like Sean Spicer and Kellyanne Conway," she stated. "I mean, the largest inauguration in history? Alternative facts? How do you top those classics? So if I've lied more than others, it's only because I've committed perjury on the shoulders of giants."
"And I mean literal giants," she continued. "President Trump is actually 27 feet tall. The fake news won't tell you that."
During her tenure, Sanders has proven herself one of Trump's most loyal defenders and fan-fiction authors. But she says the lack of deceit she's been able to share with her husband and three young children has been a strain on her family.
"Misleading the American people on a daily basis has been a deeply rewarding experience, but I've had to spend so much time away from my kids that they actually still think I'm a decent person," she said. "Just last week my son drew a firetruck and I told him it looked like the real thing, even though it was terrible. He glanced up at me and smiled, believing every word I said. It just broke my heart."