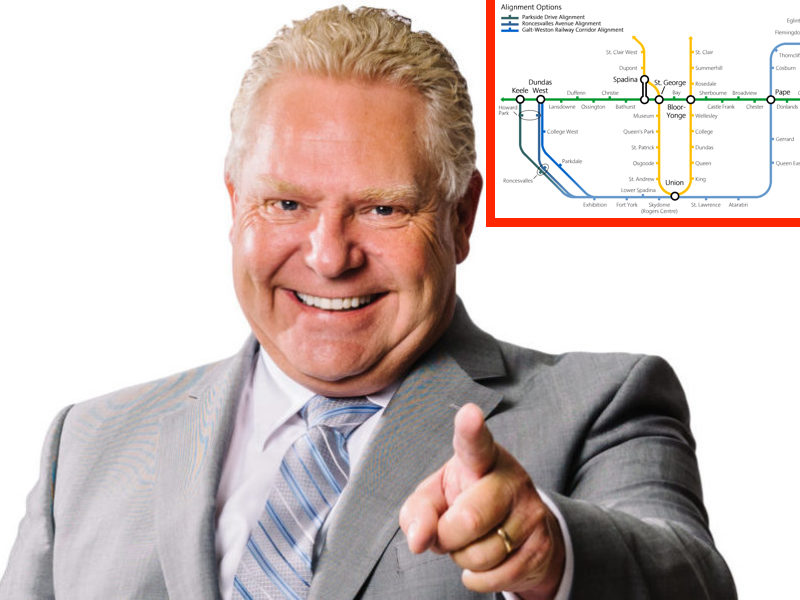 TORONTO — Speaking to reporters, Ontario premier Doug Ford cancelled the city's plans for a downtown relief subway line before announcing his own "Ontario Line" subway, which he also then promptly cancelled.
"For too long, Toronto City Council has been too slow and unresponsive when it comes to cancelling subway lines that haven't even been built yet," proclaimed Ford. "Now that my government has stolen subway planning away from the city, we promise to hastily plan, announce, and then cancel new subway projects at a faster rate than folks have ever imagined!"
Provincial officials released a detailed map showing the new line, which will run from Ontario Place to the Ontario Science centre, and then immediately confiscated all the maps and burned them to show that this will never happen.
Responding to questions from the reporters he considers "buds", Ford assured Torontonians that he has a proven track record of derailing and cancelling subway projects. "I've helped cancel more subways than David Miller, Kathleen Wynne, or even that wuss Trudeau combined." Ford then grew wistful, "I bet my dear brother is up there looking down at me, saying 'Way to fuck up Toronto transit for another generation, Dougie'."
"It's what we Fords are best add," Doug added, wiping away a tear.
Transit planning experts have responded to the premier's subway cancellation plans, first by drinking heavily, and then by projecting that TTC riders can soon expect to all be riding on shuttle buses, once premier Ford gets around to cancelling subway lines that are currently in use.
Asked why he felt the need to cancel so many Toronto transit plans rather than actually building projects, Ford responded. "First, ripping up other people's hard work feels amazing. Secondly, there's no better way to get back at an entire city for refusing to elect you mayor."
Reached for comment, Toronto mayor John Tory asked, "Wait, what's going on today?"
Across the city, transit users responded to Ford's news. "The Scarborough subway extension is really going to help cut down on my commute time," said local commuter Phillip Dexter, during the 0.5 seconds where it seemed like this might really happen.
Back at the conference, Ford interrupted a question from the Toronto Star to announce, and then cancel, a completely new subway line. "Yeah, I call this one the 'Trudeau Job-Killin' Carbon Tax Line, and it'll run from Eglinton to Markham, and whoop, there it goes, already cancelled. Suck it, losers."
Premier Ford then closed the press conference by reminding Ontarians that he's slashing education funding by a further 10% in order to pay for more Toronto subway plans to cancel.