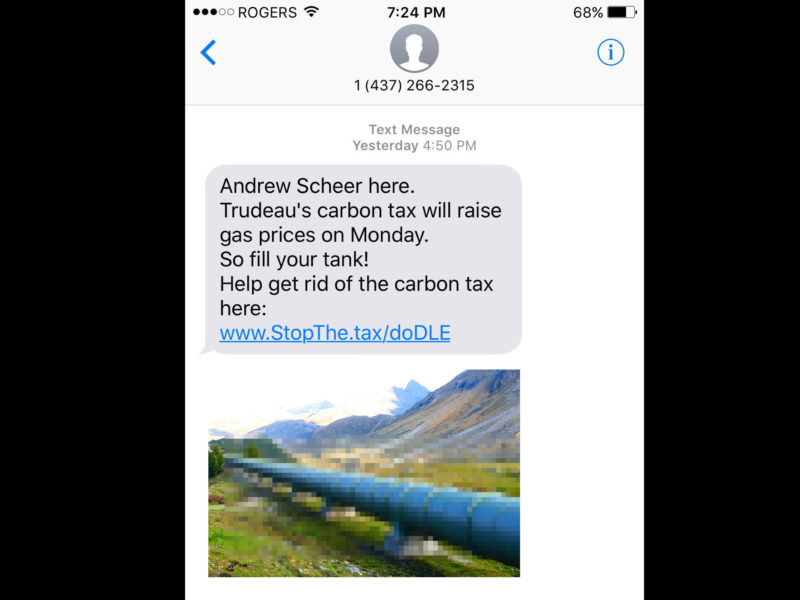 OTTAWA — This weekend mobile phone users across Canada received unsolicited text messages from Conservative leader Andrew Scheer, featuring pictures that he described as his "huge, thick pipeline".
The offending messages went out at different times across the country, leading to reports of numerous car accidents, heart attacks, and one ferry crash. At the same time, all affected Canadians reported being caught off guard by Scheer's "pipe pics".
"I was just getting ready to fall asleep, and suddenly my phone buzzes," recounted Dylan Jameison, of Surrey. "I assumed it was my girlfriend, but no, it was the Leader of the Official Opposition, stroking his big oily pipeline."
"Like, I didn't consent to this," Jameison lamented.
Other cell phone users reported receiving cryptic texts from Scheer that simply read "U up?", followed by selfies of himself next to an oil pipeline, which he described as "TransMountain-sized". In other photos, Scheer reportedly held a can of Coca-Cola next to the pipeline, "to give it scale". In all of the text message exchanges, Scheer requested that Canadians text him back photos of their "gas tanks".
"I mean, I've come to expect unrequested pipeline pics anytime I meet a guy from Alberta on Tinder," reported Jessalyn Davies, of Victoria. "Also, if he plans on doing this again, Scheer should know – I've seen bigger."
Tens of thousands of Canadians have reported receiving the texts while driving, spending time with loved ones, and while sitting on the toilet. "I was actually getting ready to head to the bedroom with my husband," explained Maria Schneider, 38, of Montreal. "But you know what isn't conducive to romance – Andrew Scheer, the man who looks like an adult-sized ventriloquist dummy."
Schneider added, "Also, for a guy who's obsessed with pipelines, Scheer seems real thirsty."