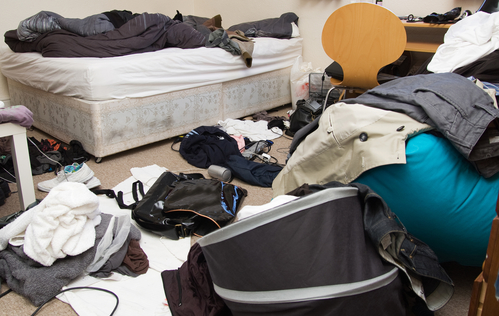 TORONTO – Popular travel blogger Anderson Patrick Cole has decided to document his most exhilarating adventure yet: a three-week staycation at home, spent lying in his own filth.
"I have been very fortunate to travel all over the world," he wrote at the top of his staycation post. "But when I saw how much debt I've accrued from buying camera equipment and plane tickets almost nonstop for the last ten years, I figured it was time to let my crippling economic-anxiety take over and show my fans how they can have an adventure right in their own homes."
The photos Cole shared in his latest post shows how easy it is for regular people to enjoy all the thrills of an exotic vacation simply by letting garbage build up their homes. "A dead succulent can look like a palm tree with the right filter," captioned Cole. "That half-finished RC Cola that's been sitting out for a month can be a refreshing cocktail if you forget what an actual drink tastes like."
Cole shared plenty of tips to help your staycation feel like a real vacation. The travel maven recommends avoiding sunlight at all costs so that you can develop disoriented, jet-lagged feeling. He also recommends leaving food waste out to attract ants, which you can convince yourself is an exotic culinary delicacy.
Cole's final post announced that he'd be pawning his camera equipment to help pay off his credit card debt. Although updates will be less frequent without a camera to capture his signature content, his Patreon page will remain active with pleas for more money.