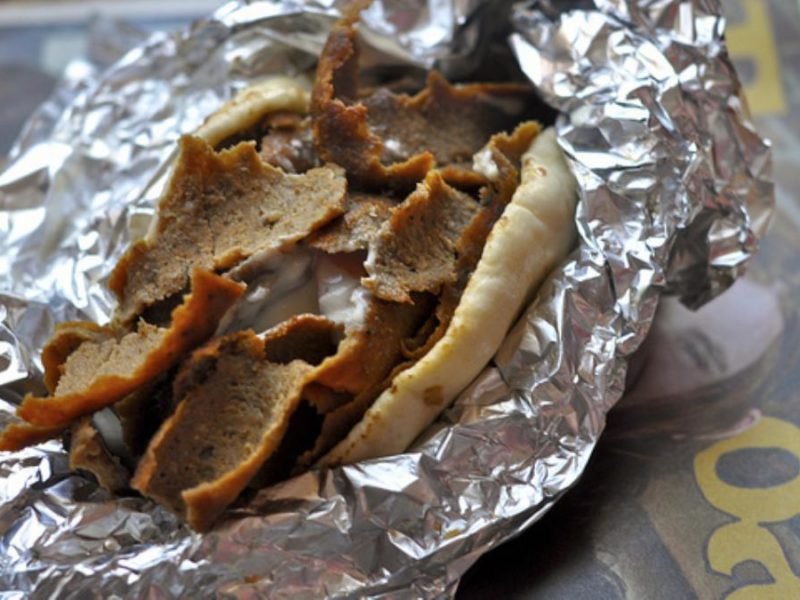 HALIFAX – A recently-ordered extra large donair with the works is currently undergoing preparations to spend the winter months lodged in the colon of local call centre employee Justin MacIsaac, 29.
"It's gonna be hard going, but thanks to the cold Nova Scotian weather and Mr. MacIsaac's pre-existing hatred of exercise, I'm confident I can last," said the regional delicacy, moments after being eaten.
The donair, consisting of fried pita, sweet garlic sauce, and roughly 2 pounds of spiced meat, was purchased at Ronnie's 24 Hour Big Slice, in the North End. After leaving the Marquee Club's last call, MacIsaac purchased and hastily consumed the football-sized meat wrap. Later, during an indigestion-plagued night of sleep, the donair went to work.
First, the donair proceded to winterize the colon by adding an insulating layer of fat cells to MacIsaac's torso. These fat cells were naturally drawn from the donair's own impossibly fatty meat. Next, the donair stockpiled provisions of its own for the winter by snagging other high calorie foods which passed through MacIsaac's colon, in addition to the remains of last winter's donair.
"He would have wanted it this way," the donair said solemnly.
Experts estimate upwards of 55% of Nova Scotians will spend the winter months with some part of an extra large donair hibernating in their colons. Marjorie Dobson of Dalhousie's East Coast Food Research Institute believes it is part of a natural evolutionary cycle.
"Between the snow, rain, and slush, Nova Scotians instinctively gravitate towards foods with enough calories to make them briefly forget about the weather."
"Now if you'll excuse me," the researcher added, "I got a delivery from Ronnie's on the way for lunch."
Unlike the traditional Turkish döner, made of easily digestible lamb and intended to be consumed in a light mediterranean climate, the Halifax-style donair is perfectly suited for maximum abdominal retention.
"Like all East Coast dishes, we donairs are hearty, greasy, and designed to 'stick to your ribs'," explained the 2am meal. "And by 'stick to your ribs', I of course mean that I will be setting up shop in Mr. MacIsaac's transverse colon."
Reached for comment, MacIsaac said, "Oof, that donair is just sitting there," unaware that the 1600 calorie food bomb will continue to do so until mid-March.
At press time, MacIsaac was attempting to "move things along" with a slice of donair pizza.