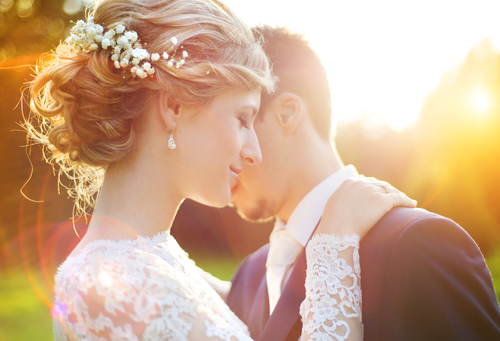 YOUR FACEBOOK FEED – The Internet is abuzz with 'likes' and 'hearts' after beloved married people, Jennifer and Richard Wilkinson, posted their black and white wedding photos yet again.
"Sure they got married over four years ago but I'm still so happy that their never-ending love was captured in such daring pictures like the one where they're holding hands," said Luke Purski, a man who has never actually met the couple.
The photos, taken in a rush moments before the wedding in an effort to prevent paying the photographer overtime, have also been shared by both the bride and groom's parents, as well as Aunt Lynn.
"I knew once I got Jenny and Rich to put their hands together in the shape of a heart, these photos would be remembered and re-posted for a lifetime" remarked Wedding Photographer, Jared Lu. "It's not every day you see such truly intimate and asymmetrically balanced images."
Jennifer and Richard's friends are already excitedly awaiting the next time the not-so-newlyweds post the photos for the fourth time.
"Of course I could just go to one of their Instagrams, or their joint twitter, or even my Facebook page cause I'm like tagged in a bunch of the photos but there is something just so special when their photos pop out in my feed every couple of months", exclaimed Dylan Garner, Jennifer's university roommate who hasn't seen the bride since the wedding. "And the best part is I just reuse the same comment every time, 'luv you guyz'."
Some analysts have speculated that the young couple re-posts the photos in an effort to dissociate from their mundane and emotionally suffocating existence as two people contractually obligated to stay together till the day they die. While others believe the event coincides with the joining of Venus and Jupiter in the night sky.
At press time the couple had posted a new sepia tone photo of Jennifer's belly with the caption, "CAN'T WAIT TO RE-POST THIS IN 9 MONTHS!"