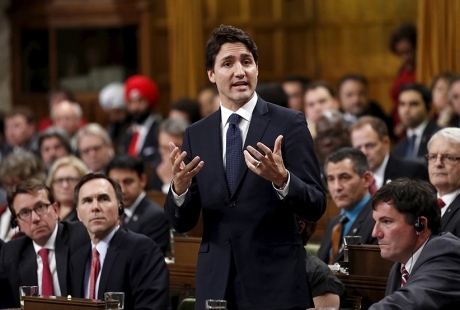 OTTAWA – After President Donald Trump once again threatened to "rip up" NAFTA, Justin Trudeau has begun laminating all international trade deals as a preventative strategy.
"It is my duty to stand up for all Canadians and their interests," remarked Trudeau as he fed a sheet of the multinational agreement into an EZ load lamination machine. "Besides, I haven't had much use for this thing since I swiped it from my old teaching job."
It is still unknown if President Trump is capable of ripping or even tearing the newly sealed agreement, especially due to his infant size hands. But many analysts agree that Trump, with the supervision of Vice President Mike Pence, would likely still be able to cut up the trade deal using a good pair of crafting scissors.
Official opposition leader, Andrew Sheer, condemned Trudeau for not going far enough in is safeguards. "What the Prime Minister doesn't understand is that this deal has existed for over two decades and must be protected. That is why the Conservative party believes that NAFTA, like the TPP, should be encased in a Five Star Binder."
The Prime Minister's Office pushed back on this approach, stating that binders are costly and that they had already budgeted on using a Hilroy Duo-tang to safely fasten the trade deal inside.
President Trump commented on the issue in an early morning tweet saying, "Canada thinks they can stop me from ripping up NAFTA with loser lamination. SAD! #MAGAHANDS."
Despite the ongoing criticisms, Trudeau stood by his decision, "if Trump demands on making any modifications, I'll just lend him a dry erase marker and wipe it off when he's gone."